Bilsthorpe Covid widow 'sickened' by Partygate report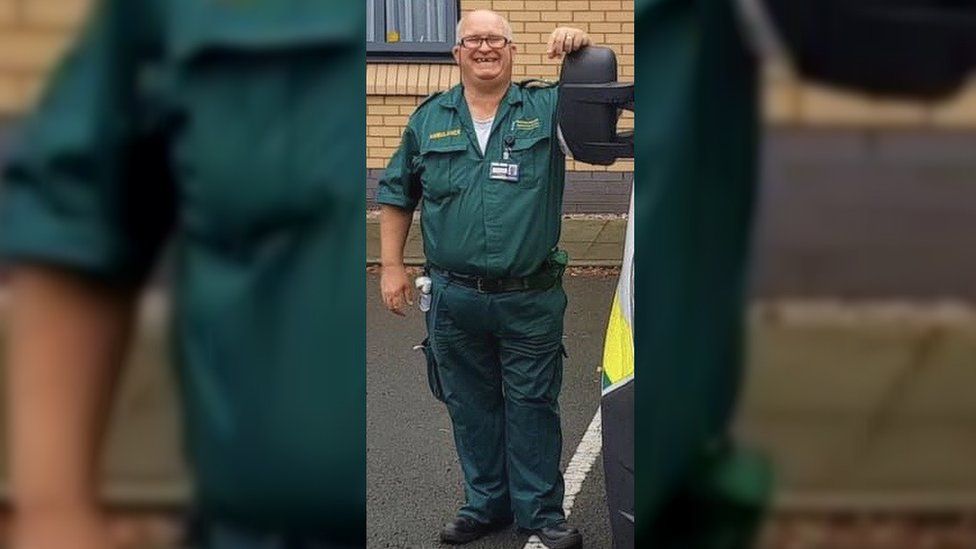 The wife of an ambulance driver who died with Covid-19 has said she is "sickened" by a report into parties held at Downing Street in the pandemic.
Charlie Goodwin, 61, from Bilsthorpe in Nottinghamshire, died on 20 April 2020.
Excessive drinking, mistreatment of cleaners and security staff, and Covid rule-breaking was highlighted in civil servant Sue Gray's report.
Julie Goodwin said the prime minister had made a "mockery" of lockdown while the public were making huge sacrifices.
Mrs Goodwin said her "amazing" husband Charlie, 61, had been self-isolating from her and his three children so he could continue working and had caught Covid while transporting patients during the pandemic.
He was taken to King's Mill Hospital after contracting Covid-19, where he died after 11 days in intensive care on 20 April 2020.
"I didn't say goodbye, I wasn't allowed to see him.
"Once they took him out of the house, I never ever saw him again," she said.
Mrs Goodwin said Prime Minister Boris Johnson was "an absolute embarrassment" and added those who want the public to move on from Partygate should have "sat in her shoes two years ago".
"He's got no respect, no compassion for people," she said.
"There were people taking their last breath dying in the thousands and he's partying like that. What sort of a leader is he?"
Mrs Goodwin added: "What if our NHS nurses and doctors had done that in their working environment?
"There was nobody working any harder than them."
In her report, Sue Gray said the leadership in No 10 "must bear responsibility" for its culture.
On Wednesday, Boris Johnson told the Commons he took "full responsibility for everything that took place on my watch" and he had been "humbled" and learned lessons.
He told MPs when he had previously said "the rules and guidance had been followed at all times", it had been "what I believed to be true".
He said he had attended events to wish staff who were leaving farewell and his attendance had not been found to be outside the rules.
Labour leader Sir Keir Starmer has said it is time for Mr Johnson "to pack his bags" and called on Conservative MPs to remove him.
Mark Spencer, Conservative MP for Sherwood, said it was a "huge surprise to me that that inappropriate behaviour was taking place".
He told BBC Radio Nottingham: "I had genuinely no idea. Whenever I was over in that building it was a professional workplace with people focused on what they should be doing, so what happened in the evening when I'd either gone back to Sherwood or was in bed, heaven only knows.
"People up and down the country were making huge sacrifices and it came as a huge shock to me and also to the prime minister that that was happening."