Scandal-hit Nottingham maternity services ordered to improve
By Greig Watson & Amy Phipps
BBC News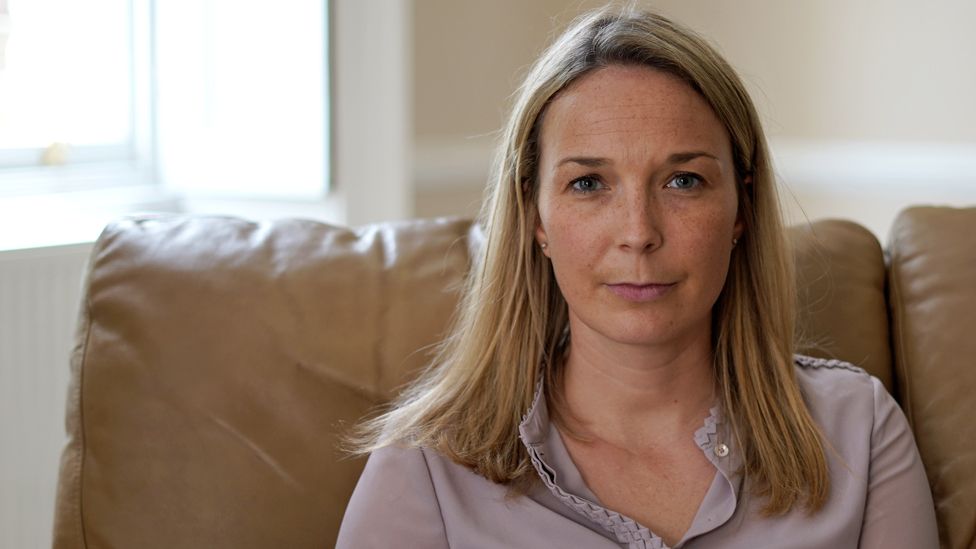 A mother whose baby died after mistakes by staff said she felt like she "was dying", on the day the NHS trust responsible is ordered to improve its maternity services.
The units at Nottingham University Hospitals trust - under review after dozens of baby deaths - have been rated inadequate by the health watchdog.
Sarah Hawkins gave birth to her stillborn daughter Harriet in 2016.
The trust said it was working hard to make improvements.
The Care Quality Commission (CQC) said the trust must make immediate improvements to its maternity services, adding there were serious staffing and cultural problems.
Mrs Hawkins, who worked at the trust with her husband Jack, had been in labour for six days before she gave birth to her stillborn daughter Harriet at Nottingham City Hospital in 2016.
She said they knew something had gone wrong as soon as they were told their baby had died.
"Being two clinicians here at the time we thought 'you've seriously got this wrong' and I was then left for nine hours trying to deliver a dead baby because of communication errors," she told Radio 4's Today programme.
"This whole time, I can't even describe the confusion, I felt like I was dying."
The couple were told their daughter had died from an infection, something they did not believe to be correct.
Ms Ockenden told the BBC her first priority was to listen to the families that had been affected.
"Very clearly, the CQC issuing a safety warning notice and the stories that we're all seeing - parents have shared widely - there is clearly something that is very, very wrong at the trust," she said.
"I'd say to parents speak up if you have concerns, but you should feel confident that the enhanced scrutiny that there is on the trust can only be positive."
NHS maternity services in Nottingham - based at the Nottingham City Hospital and Queen's Medical Centre - were initially rated as inadequate in 2020.
Inspectors, who visited in March, said the department did not have enough staff to care for women and keep them safe.
The CQC noted that at City Hospital, there were 19 serious incidents reported by maternity staff between March 2021 and February 2022. In addition, there are currently five Healthcare Safety Investigation Branch investigations.
They also issued a warning notice over safe care and treatment related to observations and triage services.
Inspectors said their warning notice was issued as staff were not always carrying out observations to make sure patients' conditions were not deteriorating and that triage wait times were too long.
However, the report did say staff were compassionate and kind and there was an improvement in staff morale.
Fiona Allinson, CQC's director of operations Midlands network, said: "It's disappointing that despite several inspections where CQC has told the trust areas they must improve to keep mums and babies safe, serious problems remain."
By Michael Buchanan, social affairs correspondent
What's most worrying about this report is that the trust is struggling to deal with issues it has long known about.
Back in 2018, the trust board was sent a letter from doctors and midwives saying a lack of staff in its maternity units was endangering patient safety.
In 2020, the CQC told the trust that staff didn't always know how to keep women and babies safe. Both of these issues remain ongoing concerns.
Following reports like this, trusts often argue that if they weren't in the headlines, they could get on with making improvements.
But when the bond with patients has been broken, as it has for many in Nottingham, a laser focus on its actions is often the only reassurance families have that meaningful change is under way.
It said maternity services nationally were "under immense scrutiny" in light of reports at University Hospitals of Morecambe Bay NHS Foundation Trust and Shrewsbury and Telford Hospital NHS Trust.
Some evidence of "bullying behaviour" had been uncovered, with a small number of staff displaying "unacceptable behaviours such as being 'rude' and 'abrasive'".
However, it added the "vast majority" of staff were committed to "a caring and compassionate culture".
Sharon Wallis, director of midwifery at NUH, said: "Our teams are working hard to make the necessary improvements, but recognise we have more to do and are absolutely determined to speed up the pace of change and deliver quality services for women and their families."
The overall rating for both Nottingham City Hospital and Queen's Medical Centre following the CQC inspection remains as requires improvement.
Related Internet Links
The BBC is not responsible for the content of external sites.