Nottingham's Baa Bar apologises after woman mocked over safety concerns
By Sonia Kataria
BBC News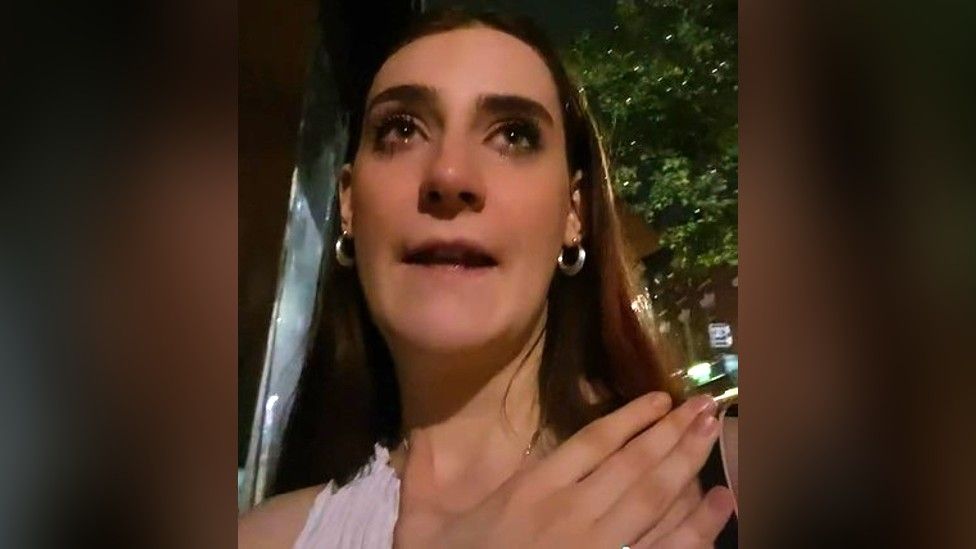 A bar has apologised after a woman said her concerns for a suspected victim of sexual harassment were mocked by a doorman.
Louise Scriven said she heard of a woman being harassed near Nottingham's Baa Bar on Monday and then saw her being refused entry to the venue.
She said she challenged the doorman's decision, but was told the woman was "not their problem" and "deserved" it.
Baa Bar said the safety of their female customers "remains a priority".
Ms Scriven said she and her friends were in the smoking area of the Goose Gate bar when she saw the woman being refused entry.
The University of Nottingham student said after her concerns about the woman's safety were ignored and mocked, she was forced to leave.
She later posted a tearful video about what happened online.
In it, she said the doorman told her if the woman "was being sexually harassed, they wouldn't do anything [and] 'she deserved it'".
"When confronted with it, they said 'not their problem, not their issue' and that we need to leave," she added.
She said the bouncers then "physically pushed us out".
'Inappropriate and offensive'
She said she no longer felt safe on a night out and would only go if accompanied by male friends.
"It has put me off," she said.
"I'm quite scared to go now, because there's always that fear that something could happen to you."
Issuing a "full apology", a Baa Bar spokeswoman said the bar did not "condone such behaviour".
"We would very much like to apologise for the incident that occurred... where a female guest was the focus of inappropriate and offensive comments from a member of the door team," she said.
"As a female-owned business, the safety of our female guests has been, and will remain a priority for us."
She said the "doorman in question" was from a third-party security company and "will never work for us again", and that the bar would be "making further changes to ensure the security we hire has the same values and behaviours of our wider staff".
She added that the police were informed of the incident and said they would not pursue the matter.⁠
Related Internet Links
The BBC is not responsible for the content of external sites.