Natasha Abrahart suicide: Bristol University 'should acknowledge problems'
By Amy Phipps & BBC Radio 4 Today
BBC News, East Midlands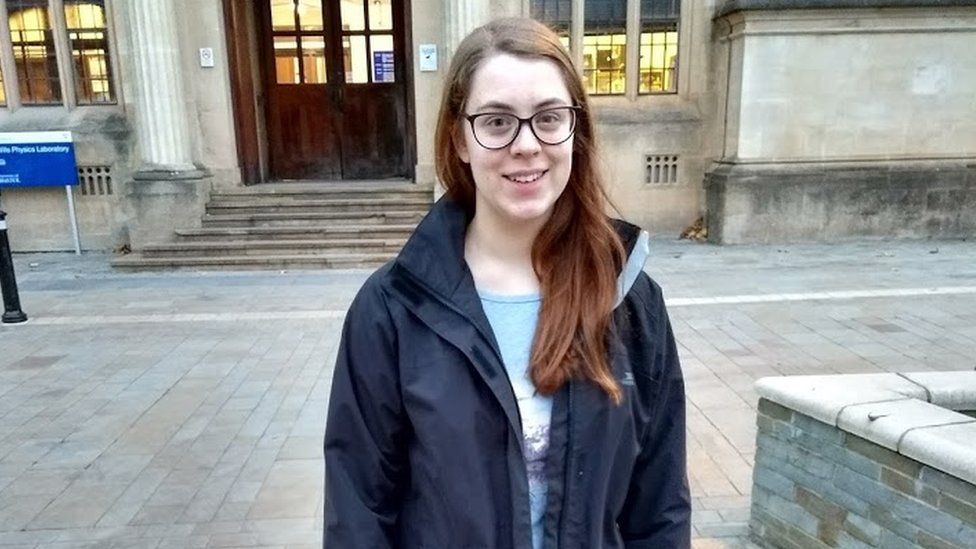 The parents of a physics student who killed herself are asking her university to acknowledge its problems after winning a civil claim.
Natasha Abrahart, from Nottinghamshire, was studying at the University of Bristol when she died in April 2018.
It maintains that its staff worked hard to support 20-year-old Miss Abrahart.
On Friday, the university was told to pay more than £50,000 in damages. It said it might appeal.
Miss Abrahart, from West Bridgford, was in her second year when she was told she was expected to take part in a group presentation in a 329-seat lecture theatre.
He father Robert said: "Natasha was wonderful. She was kind, helpful, extremely bright, diligent, hard-working, she always gave everything her best.
"You could not have wanted a better daughter.
"She only had one Achilles' heel, this was her social anxiety.
"She just found it so difficult when she was put in situations where she had to give some sort of oral presentation," Mr Abrahart said.
Before her death he had thought she was getting better.
"It turned out, when we went through the evidence that all her friends had provided, she wasn't really improving - she was just getting better at not showing it.
"She had coping strategies and when she finally got to her second year in Bristol, the coping strategies didn't work.
"She couldn't escape from the oral assessments in any way," said Mr Abrahart.
An inquest into Miss Abrahart's death in May 2019 found she had been neglected by mental health services but the coroner ruled the adequacy of support provided by the university was outside of the inquest's scope.
In a statement released on Friday, the University of Bristol said: "We believe staff in the School of Physics worked incredibly hard and diligently to support Natasha during her time with us, and it was due to their efforts that she was receiving specialist mental health support from the NHS.
"Our staff's efforts also included offering alternative options for Natasha's assessments to alleviate the anxiety she faced about presenting her laboratory findings to her peers."
Miss Abrahart's mother Margaret said the university needed to recognise there were issues.
"I think it's really difficult to think that there's any chance of fixing a problem if people aren't acknowledging the problem is there.
"If you continually deny or protect yourself and don't look at the problem, you don't stand a chance of fixing it."
Mr Abrahart added: "It's quite obvious this is only the end of the beginning - we have a long way to go still.
"What we've done, it identified problems; the next step is to make sure someone fixes them."
Related Internet Links
The BBC is not responsible for the content of external sites.