Billy Sharp: Fan jailed for headbutting player at end of match
By Heather Burman & PA news agency
BBC News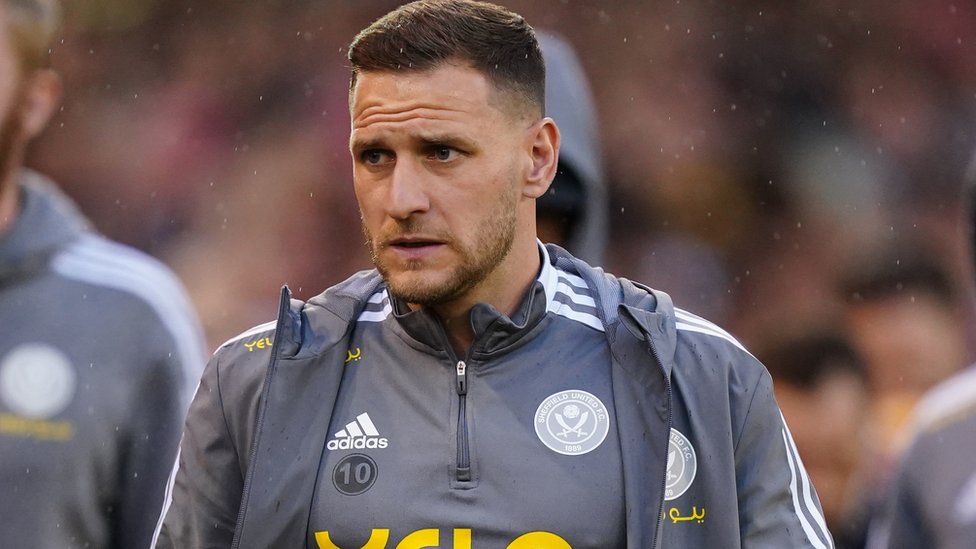 A fan has been jailed after running on to a pitch and headbutting a footballer at the end of Nottingham Forest's play-off match with Sheffield United.
Billy Sharp, Sheffield United's captain, was attacked after his side lost to Forest on penalties.
Sharp was knocked to the ground and required four stitches to his lip.
Forest season ticket holder Robert Biggs, 30, pleaded guilty to assault occasioning actual bodily harm and was jailed for 24 weeks.
At Nottingham Magistrates' Court on Thursday, Biggs, from Church View, Ilkeston, Derbyshire, was ordered to pay £500 compensation to Sharp, £85 in costs and a £128 victim surcharge.
Biggs, who Nottingham Forest have said will be banned for life, was also given a 10-year football banning order.
'Deliberate and senseless'
Prosecutor Marianne Connally said the attack was caught by cameras covering the Championship semi-final for live television.
"Mr Sharp hadn't directly participated in the game. He appears to be standing with his hands in his pockets," she said.
"Mr Biggs can be seen to run along the pitch. He then headbutts Mr Sharp.
"The crown's case is that this is a deliberate and senseless act of violence. It's an assault on an employee, effectively in his place of work."
In sentencing, District Judge Grace Leong said: "The video clip proves to me that you were running towards Billy Sharp and that you dodged all the other spectators to get towards him.
"I am of the view that it was a targeted act of aggression... even if it was not premeditated.
"You must have seen him fall over but you did not stop to check if he was all right or whether he was seriously injured."
The judge had been urged to hand down a suspended sentence on Biggs, who claimed he and his girlfriend would not be able to keep up monthly mortgage repayments if he was jailed.
But the judge said: "Given the gravity of this offence, where thousands were present to witness it, there has to be an element of deterrence."
The judge added the attack could have "given rise to further incidents".
Defence solicitor Rachel Gowans said Biggs handed himself in to police in the early hours of Wednesday after seeing video footage of the attack on social media.
She told the court Biggs had drunk "a quantity of alcohol" at a pub near the City Ground and "just followed" two friends on to the pitch.
Ms Gowans said: "He says that in effect he got carried away in the moment... as did a number of people. His sole intention was to get to the tunnel. He remembers running towards the players but to the left of Billy Sharp, looking at the crowd... and then running straight into somebody.
"He accepts that he has collided with the right side of the player's cheek. It's not targeted on the player."
Biggs was told a separate charge of illegally entering the playing surface had been dropped.
After the hearing, the Crown Prosecution Service (CPS) said it was working with footballing bodies to explain what evidence was required to charge offenders to help clubs protect players.
The CPS said this would ensure they had the evidence they needed "to build the strongest case possible".
Douglas Mackay, of the CPS, said: "Over recent years and months there has been a significant rise in football-related criminality compared to pre-pandemic levels.
"There is no place for violent criminal acts in football, and incidents such as these have a significant impact on victims."
Related Internet Links
The BBC is not responsible for the content of external sites.