Nottingham maternity services could move under new plans
By Sandish Shoker
BBC News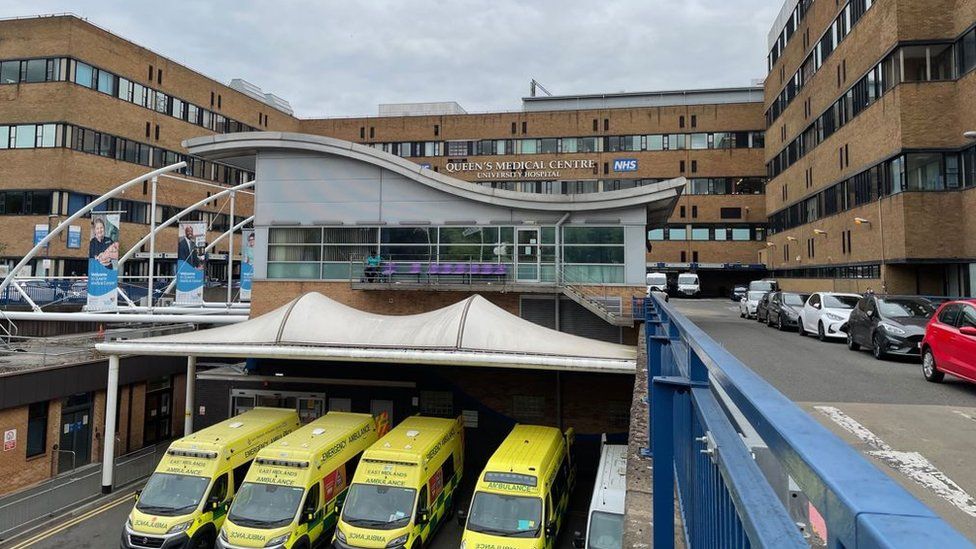 Nottingham's maternity units could be moved to one hospital as part of plans to relocate some services.
Nottingham University Hospitals (NUH) NHS Trust is looking into the running of three of its sites.
It could see maternity, emergency and cancer services move from City Hospital to the Queen's Medical Centre (QMC).
But Jack Hawkins, whose child died in the womb after mistakes by maternity staff, said just moving services would not address bigger issues.
Mr Hawkins, who is part of a group of 80 parents taking part in the review, said: "It is a great opportunity to work closer together but just doing that is not going to solve the problem they have. The geographical locations of the services is not the issue.
"The opportunity to work closer together as a team is great because teamwork is one of the things that sorely needs improving between doctors and nurses.
"But our biggest concern is accepting that they need to work differently and that they are an inadequate service."
NHS Nottingham and Nottinghamshire Clinical Commissioning Group (CCG) has launched the public survey and a series of events for people to give their opinion on the plans for the QMC, City Hospital and Ropewalk House.
It said this was a "once-in-a-generation opportunity" for people to help shape their health and care services.
The plans, called "Tomorrow's NUH", are part of the government's New Hospital Programme, and could see the three sites refurbished, as well as new buildings.
In a report, NUH said there was currently some duplication of services across its two large hospital sites and its "ageing estate makes it difficult for us to deliver modern healthcare in the way we would like".
"We believe that we could improve the care we provide and make better use of our staff and resources if our hospitals were reorganised," the trust said.
"We are currently working hard to make improvements to our maternity services in response to concerns raised by regulators, and we know that there is still a lot more to do.
"At the same time, the Covid-19 pandemic has meant that many patients are having to wait longer than they should for planned operations.
"In this context, bringing all women's and children's services to the QMC, as well as moving our planned services to the City Hospital are priorities for us, and are improvements that would have the biggest impact for our patients.
"Similarly, moving acute inpatient cancer services and acute respiratory services to the QMC would positively benefit patient care."
Related Internet Links
The BBC is not responsible for the content of external sites.