University of Nottingham: Students occupy offices as tutors strike
By Amy Phipps
BBC News, East Midlands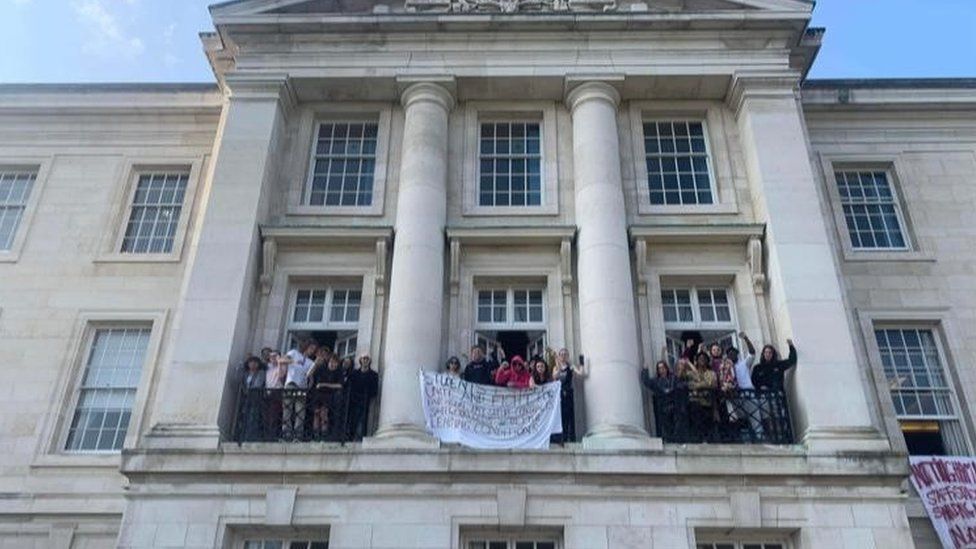 Students have occupied offices used by university bosses in support of tutors who are striking over pensions, pay and conditions.
Up to 30 students at the University of Nottingham have taken over offices in the Trent Building assigned to the vice-chancellor and the treasurer.
It follows similar action last month that saw students occupy three lecture halls.
Prosters said they hoped this time they would get a response from management.
One student, who did not want to be named, said the group was taking it in shifts to occupy the offices.
She said: "Last time there was no real effect - it didn't seem to get to management in the way that it should do considering a large amount of their student body were displaced in their teaching environment.
"Hopefully now we've gone into their work environment to disrupt them we might get a bit more of a response."
The University and College Union (UCU) said staff at 27 universities were taking part in a five-day walkout.
It is the third round of strike action this academic year.
The union has demanded an end to what it calls race, gender and disability pay injustice.
It has also called for an end to "insecure" contracts, meaningful action to tackle "unmanageable workloads" and a £2,500 pay rise for all university employees.
Andreas Bieler, a professor in the university's school of politics, said the support of students was "very encouraging".
"In previous strikes we had student support but it has never been as strong as this time round," he said.
His seminar group size has increased from 15 students to 25 - something he said had an impact on learning.
"I think many students, including those who carry out the occupation, they understand that and that's why they are so supportive," he said.
A University of Nottingham spokesperson said: "We are monitoring the situation to ensure the protest is conducted peacefully and safely.
"Whilst this is a national dispute, action is already being taken locally that would address some of the grievances expressed in the industrial action by UCU members."
They said this included piloting a scheme to end the use of casual contracts.
A significant proportion of staff received pay increases of between 3.5% and 4.5% in the summer, they added.
Related Internet Links
The BBC is not responsible for the content of external sites.