Petrol supply: Bunny station manager urges halt to panic buying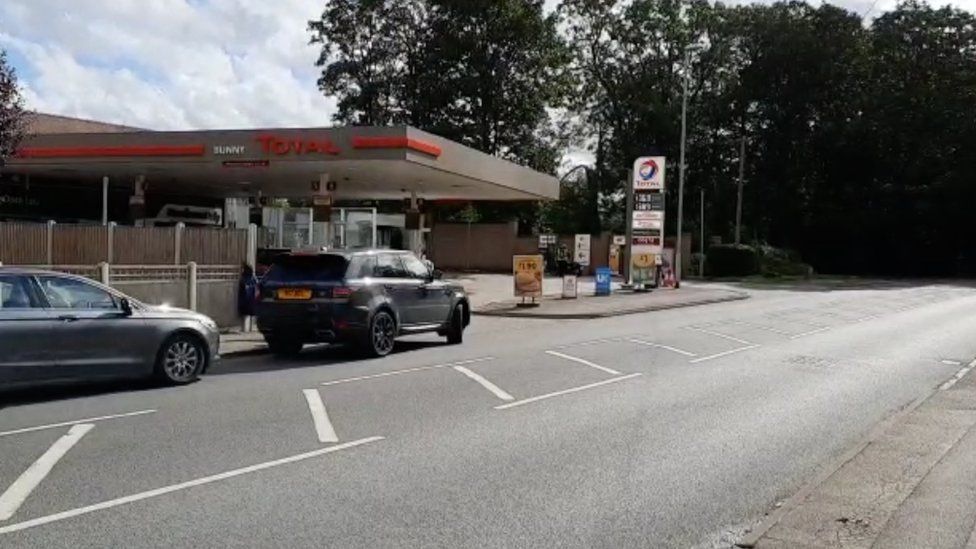 The manager of a petrol station, which has seen queues of up to two miles, has urged people to stop panic buying.
Evita Crowder, who runs the Total petrol station in Bunny, Nottinghamshire, said some customers were topping up with tiny amounts just to keep their tanks full.
She said one driver had put in fuel worth £1.60.
Ms Crowder said queuing drivers were causing traffic problems on the busy A60, which runs past the garage.
"People can't pass, it's awful," she said.
The 47-year old said it had been "absolute madness" following a fuel delivery earlier.
"Before we opened the forecourt we had over one mile of queues," she said.
She said staff, and their family members, have been trying to help by directing traffic to available pumps.
Ms Crowder said she was not having any problems with supply and deliveries were coming "as normal".
"We need to order extra tankers now because people are just going mad.
"Fuel is there for everybody - people have to stop this. People have to stop panicking," she said.
She said fuel supplies, which normally last three to four days, are going within 24 hours and people were calling the station constantly to check if they had fuel.
The Petrol Retailers Association has said there was some evidence the number of motorists visiting petrol stations was slowly beginning to calm.
The transport secretary agreed, saying there were "tentative signs" of stabilisation in petrol stations.
However, the Army has been put on standby to help ease the fuel crisis by delivering to forecourts which have run dry.