Dylan Rich: Young footballer who died was much-loved, says head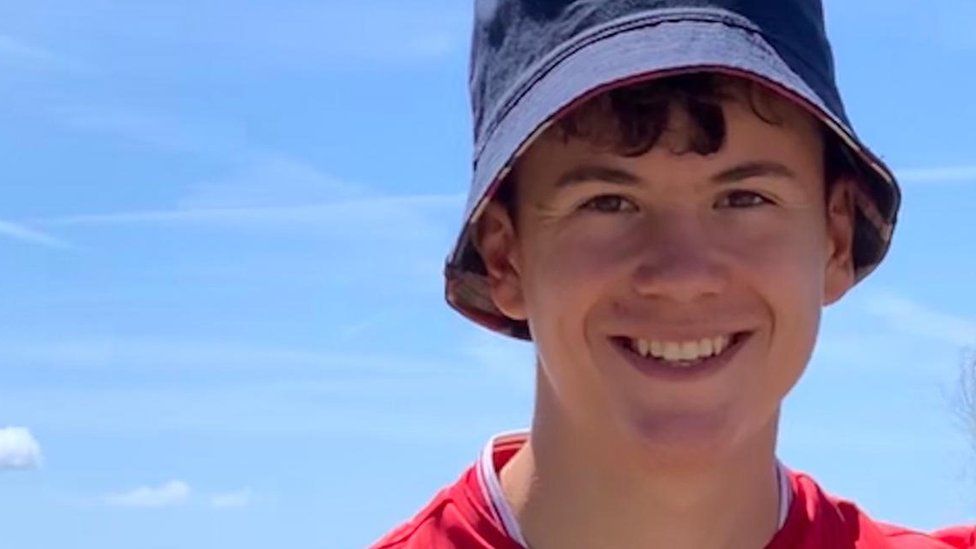 A young footballer who died after suffering a suspected cardiac arrest during a match was "much-loved" and "talented", his head teacher has said.
Dylan Rich collapsed during an FA Youth Cup game between West Bridgford Colts and Boston United in Nottinghamshire.
He is then thought to have had a second cardiac arrest while on his way to hospital in an ambulance on Thursday.
The 17-year-old, who went to The West Bridgford School, died on Sunday.
"We are a school in mourning," head teacher Tim Peacock said.
"We have a lost a wonderful, much-loved, talented member of our community. This loss will be felt deeply by many people.
"At the moment our focus is on supporting his family, friends, classmates and teachers through this difficult time."
The football match was at the West Bridgford Colts ground in Regatta Way.
East Midlands Ambulance Service said they received a call at 19:50 BST on Thursday. Dylan was treated with a defibrillator at the ground before paramedics arrived, and he was then taken to the Queen's Medical Centre.
Peter Stansbury, chairman of West Bridgford Colts, said Dylan had been at the club since he was six years old, adding Dylan's sister Lucy also played, and his father Mike coached.
"It is an extra tragedy for the club that such a great lad and such a lovely family have had this dreadful thing happen to them," Mr Stansbury said.
"It was a great opportunity for our players to play in a national competition and tragedy struck two or three minutes into the game when Dylan Rich collapsed on the pitch.
"Our hearts go out to the parents because I'm a father-of-three and the idea of this happening is just truly tragic."
He said coaches and officials from the club were very quick to get their defibrillator to the scene, and the ambulance arrived within 10 minutes.
In a statement, the club said the Regatta Way ground would be open during certain times this week to anyone who wants to leave a pitchside tribute in Dylan's memory.
Dozens of football clubs have paid tribute to the teenager on Twitter, including Nottingham Forest and Notts County.
The Football Association (FA) also released a statement saying everyone was "deeply saddened by the tragic news" of Dylan's death.
"We send our deepest condolences to his family, friends and everybody at the club at this very difficult time," the statement said.
Can sudden cardiac deaths be prevented?
"These are one of the most common causes of death in young people," Dr Steven Cox, chairman of the charity, said.
"In 80% of tragedies there are no prior symptoms whatsoever, so the first time anyone becomes aware that there's a cardiac problem is when someone collapses and has a cardiac arrest."
CRY said that while sport is generally good for the heart and reduces the risk of death from a cardiac problem for most people, sport increases the risk of sudden death in an individual who has a cardiac condition.
"The key thing from CRY's perspective is that every fit and healthy young person from the age of 14 has the opportunity to have cardiac screening, with at least an ECG," said Mr Cox.
"Through that we can prevent 89% of young sudden cardiac deaths, through identifying the conditions and treating them with medication, lifestyle modifications, but sometimes corrective surgery."
People are entitled to be screened on the NHS if there has been a young (under 35) sudden cardiac death in their family.
CRY also offers screening to all young people between the ages of 14 and 35.
Dylan's family are members of the congregation at St Giles' Church in West Bridgford, which opened on Friday evening so people could pray for Dylan.
The church's rector, the Reverend Lee Proudlove, said at the time that Dylan's condition was stable and his parents and sister had been able to sit with him.
"Mike and Anna [Dylan's parents] have asked me to pass on how blessed they feel with the support that they've received from everyone; not just church members but from friends, colleagues and people who they hardly know," he wrote on Facebook.
Related Internet Links
The BBC is not responsible for the content of external sites.