Campaigners fight closure of John Carroll Leisure Centre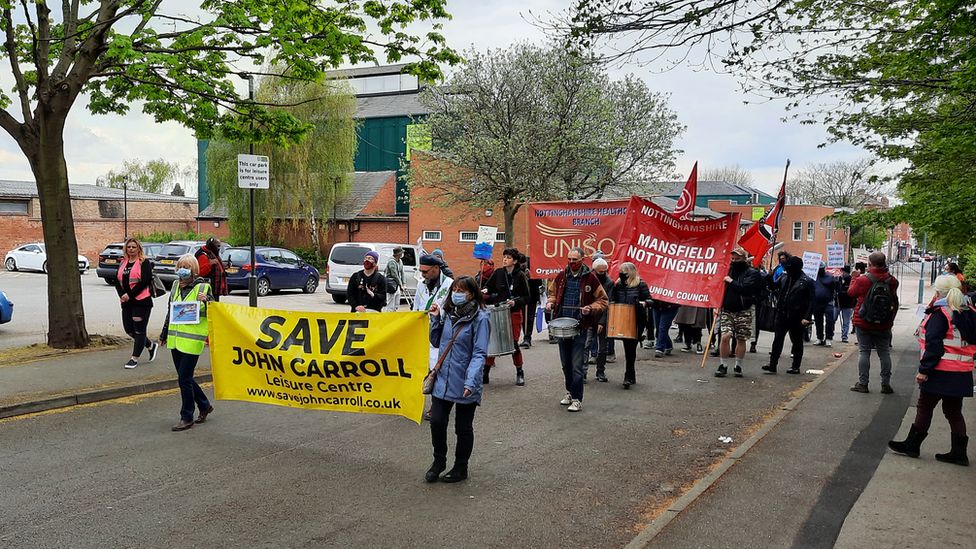 Protesters have taken to the streets to oppose the closing of a council leisure centre.
The John Carroll Leisure Centre serves the Radford area of Nottingham, but is due to close in June.
The city council has decided to shut it to save money, arguing it is the least-used and most-costly of the leisure centres they run.
But campaigners said the centre is the "beating heart" of the community and brings people together.
Organiser Daniel Thomas, 32, said: "To close it is like taking the Radford out of Radford.
"It does have all these immediate benefits, like on health, but those facilities have also been a feature of people's lives for ages.
"It's in the middle of a deprived and diverse community, and it's a place where everyone gets to know each other.
"If it goes, it will be a huge loss."
He also pointed out the council's ruling Labour party promised to protect leisure centres from cuts in its 2019 manifesto.
A petition to save the centre has reached more than 2,500 signatures.
Sam Dennis-Cassanova, a fellow campaigner and former worker at the centre, said it used to be more of a community centre but had been "stripped back" over the years.
The council said the coronavirus pandemic and long-term government cuts has hit its finances.
But it has also come under fire for pouring millions from the public purse in to an energy company, Robin Hood Energy, which collapsed last year.
Council leader David Mellen said they had chosen to close the centre with a "great deal of regret", but there are other leisure centres in the city and this is the first it has had to close in 11 years.
He added: "Nationally all leisure centre operators have been struggling, with no income for nearly six months and buildings and pools to maintain.
"However, setting this year's budget, with the unmet costs and lost income from Covid standing at £25.9m and our Government grant down to just £25m from £126m in 2010, meant really tough decisions had to be taken.
"We are keen to continue to speak to community groups to see if a suitable alternative community use could be found for the building."