Nottinghamshire pensioner who died in fire 'mistakenly lit hob'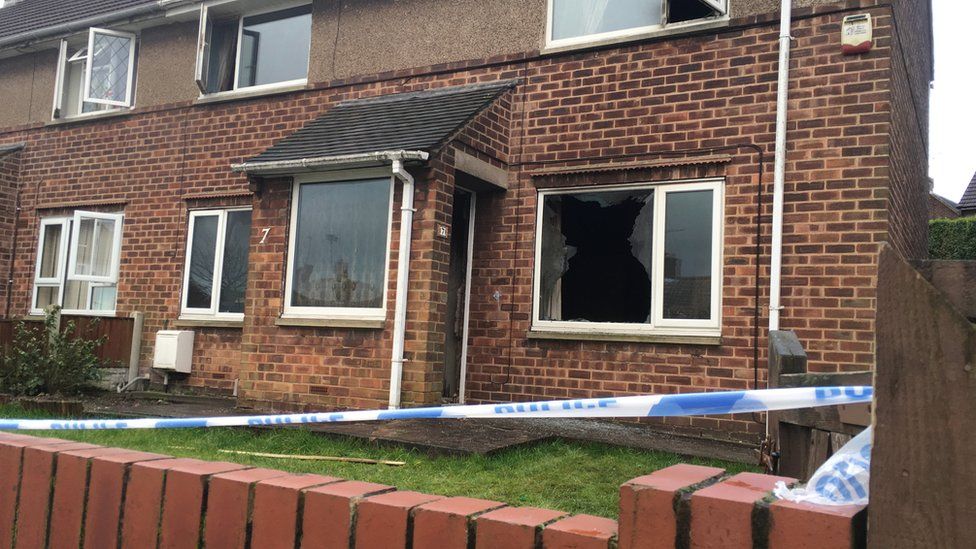 A woman with dementia who died after a house fire had "inadvertently" lit a gas ring on a hob, an inquest has found.
Vera Brewer, 73, died in hospital on Christmas Eve 2019, a day after a fire at her home on Linby Avenue, Mansfield.
Her daughter had told social services when left alone, Ms Brewer had been observed to turn on the gas, Nottingham Coroner's Court heard.
Assistant coroner Gordon Clow said the fire "could not have been predicted".
"[It] started at the family home as a result of [Ms] Brewer having inadvertently lit a ring on the gas hob which caused a chip pan to ignite," he said.
Ms Brewer lived with Barrie Green, her partner of 37 years who acted as her carer owing to her advanced dementia, with "significant support" from her children.
On the day of the fire, he tried to take her with him to an appointment but she refused and he left at 15:45 GMT.
Mr Clow, who recorded a narrative conclusion, said although Mr Green "was aware" his partner should not be left alone, he faced "a difficult situation to resolve".
Firefighters were called at about 17:00 when a neighbour noticed "an orange glow" from the house. Despite emergency treatment, Ms Brewer died the following day.
The cause of death was recorded as smoke inhalation.
The inquest heard Ms Brewer's children had contacted authorities to report concerns about her care and her partner's ability to cope with her "increasingly complex needs".
Nottinghamshire County Council's multi-agency safeguarding team "discussed the case with a senior colleague" but it was decided it "did not raise a sufficient level of concern to trigger a duty to investigate".
Though the authority accepted there were "missed opportunities", Mr Clow said it did not contribute to the death.
"It is only with hindsight that it can be seen that her life was in danger," he said. "This has been a very great tragedy."
After the inquest, Nottinghamshire Fire and Rescue Service called for families of people with dementia to install valves that turn off the gas supply to cookers "to help prevent a similar tragedy in future".