Covid: 'Upsurge' in giant veg growing during lockdown
By Amy Woodfield
BBC News, East Midlands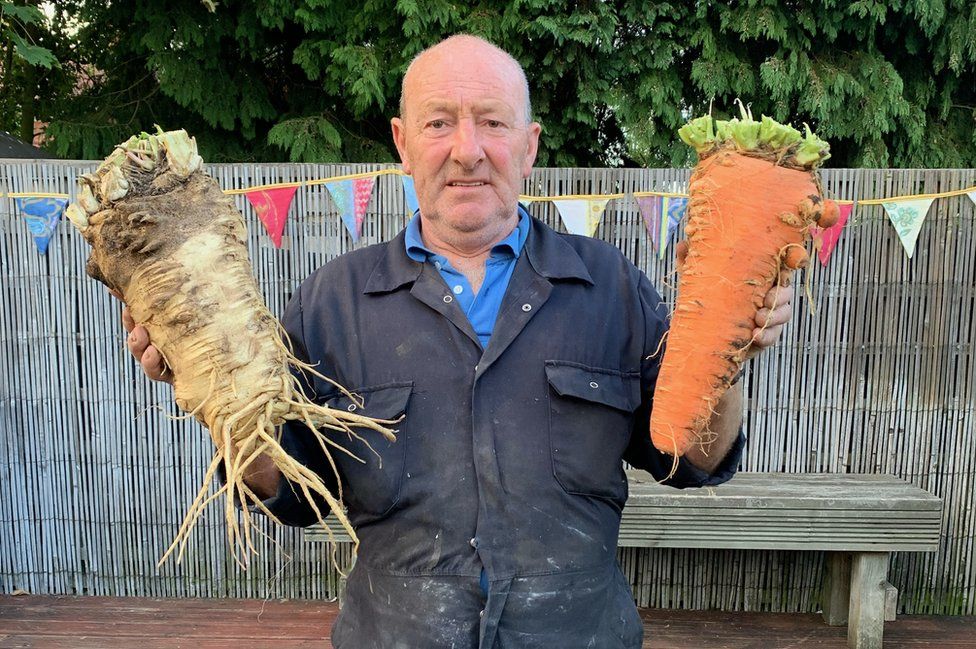 This year has seen most horticultural shows cancelled, leaving growers of supersized vegetables very little opportunity to show off their produce.
But while the pandemic might have stopped many from showing, it did not stop them growing.
Canna, a plant nutrient company, took its Giant Vegetable Championships on tour after the Malvern Autumn Show was cancelled, while the National Vegetable Society (NVS) moved some of its competitions online.
Growers could enter by photographing their exhibit and submitting it via email.
This allowed vegetable growers like Nottinghamshire's Joe Atherton - who holds five world records - to put his 2020 harvest to the judges.
Mr Atherton, 65, from Mansfield Woodhouse, took some of his giant vegetables to The Grow Show: On Tour in Mansfield last weekend.
He believes he may have set his sixth world record - this time for the longest salsify.
The root vegetable, with a similar appearance to a parsnip, grew to 5.5m (18ft) during lockdown.
He also beat his own longest beetroot record with an 8.5m (27ft) whopper.
Mr Atherton said it was the only competition he would attend this year due to the pandemic.
Holly Bolus, from Canna, said: "We wanted to make sure [growers] still have the chance to showcase their hard work despite all the usual shows being cancelled."
There has also been interest from several first-time giant veg growers.
One such novice - Dominic Driscoll, from Wingerworth, Derbyshire - grew a 22kg (3.4 stone) cabbage in his allotment during lockdown.
"I don't usually do giant vegetables," he said. "I do the show vegetables where they look nice, rather than oversized, but I got the seeds and thought I'd give it a go."
"It's kind of exciting, the thrill of the growing - the harvesting is the sad bit really," he said.
"The fun is in the work of making them grow and seeing them grow."
With no opportunity to show his Cornish heirloom cabbage Mr Driscoll, 39, did the only thing he could - eat it.
He said, unlike most giant vegetables, it tasted nice.
"We had some last night, it was fantastic - really fresh and crisp," he said.
Kevin Fortey, from South Wales - who runs an online giant veg Facebook group - said lockdown had been a chance for growers from all over the world to connect via social media.
"We've run some fun competitions online and we've seen a massive upsurge in interest in giant veg growing, with younger generations getting involved," he said.
He added growers had been donating vegetables to care homes and food banks.
"It's a fun hobby that helps people get outside and stay positive during lockdown," he added.