Jordan Sinnott: Unborn child 'will never meet killed footballer'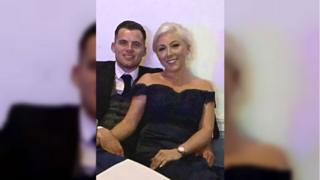 The pregnant fiancée of a footballer killed on a night out said his attackers have "denied our unborn child of ever getting to meet its father".
Three men have been jailed for assaulting Jordan Sinnott on 25 January in Retford, Nottinghamshire.
Nottingham Crown Court heard the fight was "driven" by Kai Denovan, who was convicted of manslaughter after trial.
Cameron Matthews previously admitted manslaughter and Sean Nicholson admitted affray.
Kelly Bossons said she found out about her pregnancy just days after Mr Sinnott's funeral in March.
"This is something we both wanted more than anything in the world, but I will never be able to share this news with him," she said.
"Raising a child is not something I planned to do by myself, but Jordan's killers have given me no other choice."
During the trial, the court heard Denovan complained to 25-year-old Mr Sinnott in passing that he was a "good looking lad" whereas he was "fat and ginger" .
Prosecuting, Michael Auty said Mr Sinnott agreed in a joking fashion, but Denovan "reacted aggressively" and punched him.
He said after a short scuffle both groups left the pub, but resumed again outside as the defendants shouted abuse at Mr Sinnott's group.
Mr Auty said Mr Sinnott indicated "he didn't want any trouble" but Denovan struck him again with a blow of "considerable force".
Matthews, then punched him twice which knocked him to the ground and caused his fatal brain injury.
Mr Sinnott's mother Mel Tait told the court the "selfish and unprovoked actions" of the men had left her family "devastated".
"Your ego allowed you to intimidate and hurt him," she said. "You followed him and attacked him, killing him.
"All I have left is memories of my son… and for that I will never, ever forgive you."
Judge John Burgess told Denovan Mr Sinnott's death "was the result of a drunken violent reaction to a misplaced, or misinterpreted joke".
"I am afraid town centre violence fuelled by drink on a Friday or Saturday night is quite common," he said.
"No doubt, there are many fights that result in minor injuries and no lasting damage, but when anyone engages in violence in circumstances like this, they run the risk of causing death or really serious injury.
"The prosecution accepted you never intended to cause death... but the consequences of what you did are no less hard for those that loved Jordan Sinnott."
He sentenced Denovan, 23, to 11 years in prison and Matthews, 22, was handed eight years and three months.
Nicholson, 22, was sentenced to 14 months in jail, of which he will serve half.
Follow BBC East Midlands on Facebook, Twitter, or Instagram. Send your story ideas to eastmidsnews@bbc.co.uk.