Marks & Spencer knickers display branded 'vomit-inducing'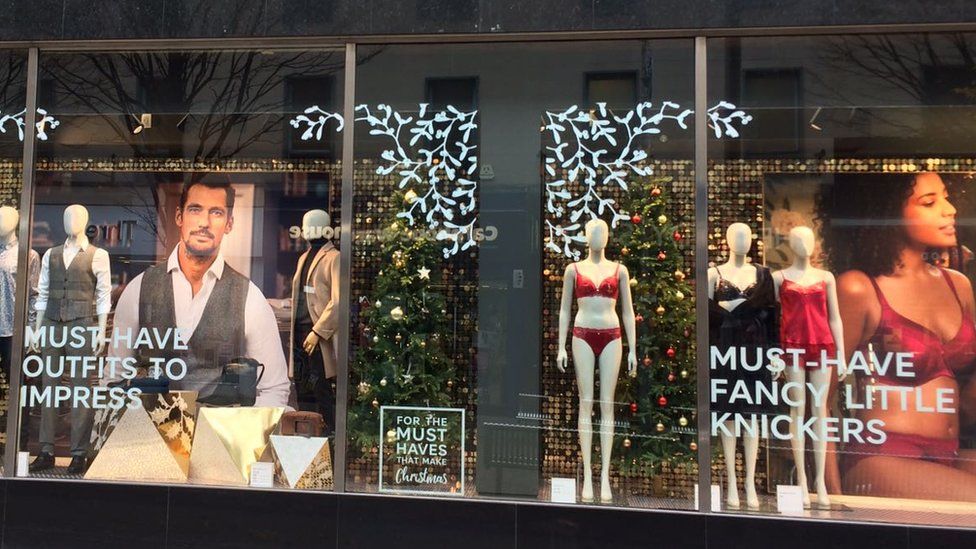 Feminists have described a Marks & Spencer window display that suggests women must have "fancy little knickers" as sexist and "vomit-inducing".
The display at the Nottingham store is juxtaposed with one which suggests men must have "outfits to impress".
A campaigner altered the window so that it read "full human rights" instead of "knickers".
M&S said the displays were part of a wider campaign that featured a variety of "must-haves".
Another window display at the same Nottingham store is aimed at women and suggests they, too, must have "outfits to impress".
Fran Bailey asked: "Ok, M&S Nottingham, have we really not learned anything in the last 35 years? Or am I alone in finding this, their major window display, completely vomit inducing?"
Speaking to the BBC, she said the display had "incensed" her for two reasons and had put her off from shopping at M&S.
"I think M&S using the slogan 'must-have' over Christmas fripperies is very distasteful when true necessities are lacking for many working and non-working people; the true necessities being warmth, shelter and food," she said.
"I also feel very, very strongly about the representation of women as being preoccupied with fancy little knickers, whereas men are presented as powerful and needing to be impressive.
"I don't have a problem with people choosing to wear whatever they want to wear, I just feel like the juxtaposition is what's grossly, grossly offensive.
"We are surrounded by sexual images of both men and women. M&S are not by any means the only offenders but that particular window just epitomises everything that's wrong with current marketing and how far backwards we've gone."
M&S said its stores had various combinations of Christmas window displays, but the same two displays would appear next to one another at some other branches.
The retailer said in a statement: "M&S sells more underwear, in more shapes, sizes and styles, than any other retailer, especially at Christmas.
"We've highlighted one combination in our windows, which are part of a wider campaign that features a large variety of Must-Have Christmas moments, from David Gandy washing up in an M&S suit through to families snuggling up in our matching PJs."
Another post, from a man, said the window display was "far too provocative and rapey".
"It is not the right sort of message especially during this current season when people drink more and their filters are thrown out of the window," he wrote.
Siân Steans took a photo of the display after it was altered by someone from the Nottingham Feminist Action Network.
"As a feminist and a mother to a young daughter I felt embarrassed that I had to yet again explain why women are depicted with so little respect," she said.
"When companies insist on men being fully clothed and women showcasing lingerie only, it sends a message about women's place in society as objects to titillate."
Outrage grew when the photo was shared on Twitter by FiLiA, which describes itself as "The Largest Annual Feminist Conference in the UK".
They described the response from M&S as "painfully poor" and "ignoring the wider issues and their contribution to maintaining sexist stereotypes".