Mud dumped on grave of champion motorcyclist Daniel Hegarty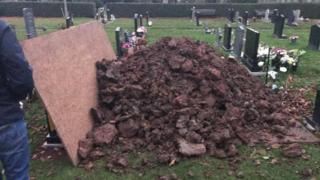 The family of a motorcyclist killed in a race said they were heartbroken after a mound of soil was left on his grave on the first anniversary of his death.
Daniel Hegarty, 31, from Nottingham, suffered fatal injuries when he came off his bike at the Macau Grand Prix on 18 November 2017.
The mud had been left ahead of a burial that was taking place later in the week.
Bingham Town Council has since moved the earth and apologised to the family.
The father-of-two was competing for Topgun Racing Honda, in China, when he crashed into barriers, losing his helmet and sustaining fatal injuries.
He died before arriving at hospital.
Charley Johnson, a former partner of Mr Hegarty, said tributes which had been left to commemorate his life had been moved and a wooden board was propped close to his gravestone.
She said there had been "no apology" at the time and "no explanation" as to why it had happened.
"It shouldn't have happened in the first place," she said.
"[Daniel's] mother saw it first and no son should see [his father's grave] like that."
You may also like:
In a statement, the council said it had "apologised unreservedly" to the family for the distress caused.
It said the soil was from "preparations" for another burial and added a "further review of standard procedures" would be considered.
In April, an appeal to create a £10,000 trust fund for each of Mr Hegarty's two children was launched.
The motorcyclist was born in Nottingham and regularly competed at the Isle of Man TT. He was its Privateer champion in 2016.
Follow BBC East Midlands on Facebook, on Twitter, or on Instagram. Send your story ideas to eastmidsnews@bbc.co.uk.