Nottingham Rock City evacuated after 'flare set off'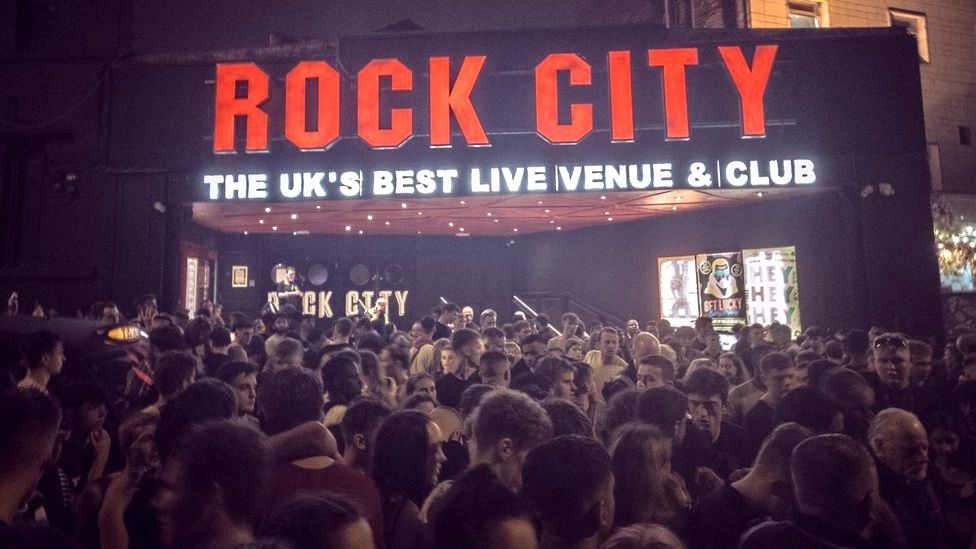 About 2,000 people were evacuated from a music venue when a suspected smoke flare was set off during a gig.
Music fans said a "sense of panic" took over at Nottingham's Rock City when the show by rapper Lil Pump was disrupted on Friday evening.
Some reported breathing problems, while other witnesses said they saw people vomiting outside the venue.
Police said about 20 people with minor injuries were assessed by paramedics at the scene.
It is understood the substance released into the crowd is not thought to have been pepper spray, as indicated in some early reports.
Harry Rutter, 20, who was watching the gig with a friend on the balcony, said problems began about halfway through the show.
"All of a sudden people were saying, 'Look, you need to get out'," Mr Rutter, a reporter with the Cambs Times, said.
"I just couldn't breathe and you had this feeling in the back of your throat.
"I looked down and people had stopped watching the music and were just trying to get out.
"There was a real sense of panic as they were running for the doors."
After he got out Mr Rutter, who was not badly affected, said a number of people were being treated outside.
"People were crying and stuff and a few were vomiting," he said.
"They were sitting on blankets and the medics were keeping a close eye on them."
Following the evacuation, Lil Pump continued the gig from on top of his tour bus outside the venue.
In a statement, Rock City said: "We had additional staff at the venue last night to carry out thorough searches of customers on entry and opened our doors earlier to give us extra time to carry out the checks.
"We take our responsibility for the safety of our customers very seriously, and also had security staff deployed in the venue."
It added that it has re-opened for shows and people could collect left items in the cloakroom.
Police said: "CCTV and accounts from witnesses are in the process of being collated.
"It is usual for events like these to be recorded on mobile phones and cameras and officers are appealing to anyone with footage in and around the venue at the time of the incident to contact us."
Related Internet Links
The BBC is not responsible for the content of external sites.