Calls for 'change' at Nottingham City Council over abuse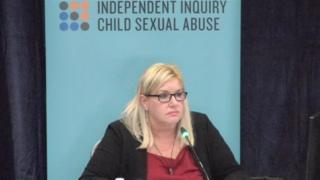 The leader of a support group for child sexual abuse victims called for "change at the top" of a council that was responsible for their care.
Mandy Coupland criticised Nottingham City Council at the Independent Inquiry into Child Sexual Abuse (IICSA).
The inquiry heard the council said it would only apologise "when there's something to apologise for" at a meeting in February.
It eventually apologised publicly last month.
Ms Coupland, co-founder of Nottingham Child Sexual Abuse Survivors Group, told the inquiry the city council had lost the trust of people who had been abused and "there need to be some resignations".
She praised Nottinghamshire County Council for the way it had invited victims and media when making a public apology earlier this year.
However, she said the city council's statement, made just weeks before IICSA's Nottinghamshire hearings began, was handled badly.
"We felt it was fickle," she said. "I really don't see how we can ever forgive our city council," Ms Coupland added.
"There need to be some resignations in Nottingham."
The inquiry heard that at a meeting of the city council's safeguarding assurance forum in February, leader Jon Collins said the authority should only apologise for child sexual abuse "when there is something to apologise for".
Councillor David Mellen, the authority's portfolio holder for children's services, was present at the meeting and signed off the minutes.
He said Mr Collins's statement was "offensive in the way that it can be read", but it was meant to reflect discussion about when to make a public announcement.
"It was not a question of whether that would happen, it was a question of when," he said.
Mr Mellen apologised for causing "more distress" to victims.
Nottinghamshire's police and crime commissioner Paddy Tipping, who also gave evidence to the inquiry, said he felt the Operation Daybreak investigation into child sexual abuse allegations was "thrown together" at first but had improved.
He said the councils had "anxieties" about holding an independent inquiry into abuse in children's homes.
"People are very keen, I think, to protect and enhance the image of the city," Mr Tipping said.
The inquiry continues.
Follow BBC East Midlands on Facebook, on Twitter, or on Instagram. Send your story ideas to eastmidsnews@bbc.co.uk.