Jonathan Agnew 'father's tribute letter' up for sport award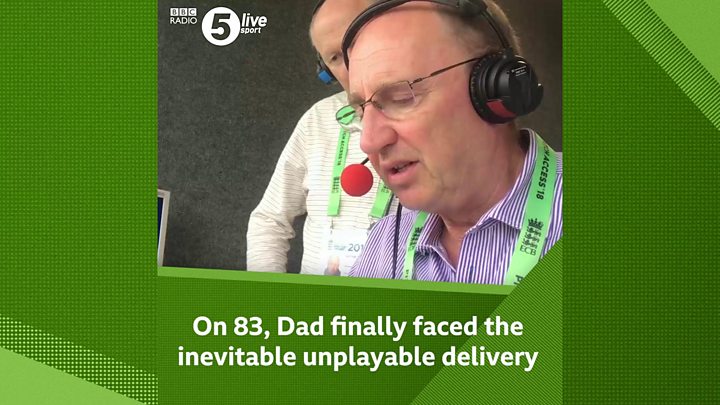 A man's emotional cricket-themed tribute to his father that was read out on Test Match Special has been nominated for a national award.
Patrick Taylor, from Newark, used cricketing terms to describe his father John's final days in an e-mail that was read by presenter Jonathan Agnew.
An online video of him reading the letter had about two million views.
Mr Taylor said the letter's response helped his family grieve and celebrate John Taylor's life at his funeral.
Jonathan Agnew read out the heartfelt letter about how John Taylor spent the final hours of his life listening to coverage of England vs India, at Trent Bridge, on 20 August.
Patrick Taylor had written: "John had faced 'a beamer' in the form of leukaemia, the 'yorker' of muscular dystrophy, the 'googly' of Parkinson's, the 'reverse swing' of diabetes and latterly was struck down by the vicious bouncer of dementia.
"On 83, Dad finally faced the inevitable unplayable delivery and left the field of play."
Mr Taylor said that before his father died they shared a wonderful moment together listening to the programme.
"[Writing the letter] felt like a cathartic thing to do," he said.
"TMS has been such a part of our family through the ages... [The team] e-mailed me to say they would be honoured to read it out.
"It enabled me to grieve, so it was emotional... [The response] turned the funeral into more of a celebration of life."
'Proof we matter'
Mr Taylor met with Jonathan Agnew at Trent Bridge, in the commentary box where he first read out the letter, on Monday.
"I read it blind, it was very emotional and I'm glad I didn't fluff it up," the broadcaster said.
"It's easy to forget just how powerful radio is and what comfort it is for people.
"[The letter] struck to the heart of what we do. Test Match Special isn't just cricket commentary, it is company for people.
"It's proof that what we do does matter."
The "Unplayable Delivery" has been nominated as best sporting moment for October by the sports charity Laureus.
Follow BBC East Midlands on Facebook, Twitter, or Instagram. Send your story ideas to eastmidsnews@bbc.co.uk.