Nottingham Prison tribunal: Whistleblower 'silenced'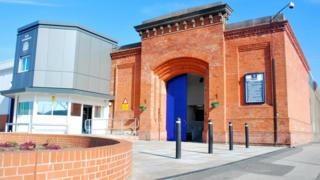 A former prison officer claims she was "silenced" and unfairly dismissed after speaking out about violence and drugs at a jail with a "tragic and appalling" suicide rate.
Diane Ward claims many colleagues and managers were "turning a blind eye" to problems at Nottingham Prison.
The 55-year-old was dismissed for medical inefficiency in 2016.
Since then, the Chief Inspector of Prisons has ordered the government to improve the jail.
Ms Ward told an employment tribunal in London: "In the two years since I've left it has gone into special measures, so everything I've been reporting has been played out in the media."
She said in her witness statement that the "real reason" for her dismissal was "a combination of all of the complaints that I made".
"I think that I gained a reputation as somebody who would complain about things in the prison that were fundamentally wrong: we weren't addressing behaviour, we weren't protecting the people who were in the prison," the statement said.
"I think they wanted to get rid of me to silence me."
---
How bad is Nottingham Prison?
The Chief Inspector of Prisons, Peter Clarke, described the suicide rate at Nottingham as "tragic and appalling" in a report published in March
Eight prisoners killed themselves in the two-year period between inspections in February 2016 and January 2018, and a ninth prisoner is believed to have killed himself a few weeks after the latest inspection
Mr Clarke said inmates may have taken their own lives because they could no longer face life at the "drug-ridden jail"
In July, inmate Ferencz-Rudolf Pusok, 28, was charged with murder following the death of fellow prisoner, 43-year-old Brett Lowe
The latest death, of 29-year-old Robert Frejus, was only a week ago. The cause has not yet been revealed
In January, HMP Nottingham was the first prison to be referred to the Secretary of State for Justice under the urgent notification process
Mr Clarke said he did this because of the "persistent and fundamental lack of safety" at the jail, together with the "overall lack of improvement from previous poor inspections"
The government has since published an action plan to improve the prison
---
Ms Ward joined the prison service in 1985 and moved to Nottingham Prison in 1997.
She said a lot of experienced staff left the jail "very quickly" in 2012 when the government introduced something called the Voluntary Early Departure Scheme, known as VEDS.
She said this had a "huge impact" on the way the wings were run and discipline suffered.
"Many experienced officers who knew how to deal with prisoners left on VEDS," she said.
"We lacked officers with sufficient experience of dealing with prisoners and we also didn't have enough experienced officers remaining to do our jobs properly.
"There were some officers who didn't do their share and that put pressure on people like me who wanted to maintain a proper atmosphere in the prison."
Ms Ward said the drug mamba started contributing to problems at the prison from 2014 onwards.
It got in by being thrown over the wall, passed in during visits or through corrupt prison officers, she claimed.
"I soon began to encounter prisoners who were on this drug and my experience of it was that it was very dangerous," she said.
"On one occasion I saw a prisoner who was on mamba clutching his chest and I thought he was having a heart attack.
"More and more prisoners were taking the drug and had bad reactions, were passing out, getting aggressive without any apparent reason. I told Governor Langford but nothing was done."
She said one prisoner threatened her on 31 December 2014 when she tried to get him back behind his door.
"Prisoner B was standing nose to nose with me and shouting, 'you're the only one who gives me any trouble'," she said.
"Other officers were nearby and did nothing. He then went off to the gym."
She claimed officers stopped challenging inmates when the prison introduced a policy that meant any touching had to be documented on a "use of force" form.
"The prisoners were fully aware of who had the upper hand and would taunt the officers and be openly disobedient, for example when being told to return to their cells," she said.
"This is a problem because it changes the balance of power in the prison if the prisoners know that the prison officers will avoid confrontations."
She initially reported problems verbally but said this used to "fall on deaf ears", so she started putting them in writing, submitting about 100 "security information reports" in three years.
One report in August 2014 involved a fellow prison officer who had been "threatening and aggressive" towards her.
She was concerned he was being "groomed" by inmates to allow them to do what they wanted, such as being let out of their cells to deal drugs or exchange contraband.
In October 2015, she was suspended from all duties for allegedly assaulting a prisoner the previous month, which she believed was "entirely unjustified".
'Troubled life'
She had a disciplinary hearing on 24 February 2016 and all of the charges against her were dismissed. However, she was concerned about going back to work and was signed off sick with stress in March 2016.
She returned to work six months later but was eventually dismissed for medical inefficiently in November 2016.
"I am devastated that after dedicating my career to helping people who have often had a troubled life themselves, I am ending it in the employment tribunal because I have refused to be silent about wrongdoing," she said.
The tribunal continues.
To discuss an East Midlands story, contact caroline.lowbridge@bbc.co.uk