Alvin Stardust honoured in Mansfield exhibition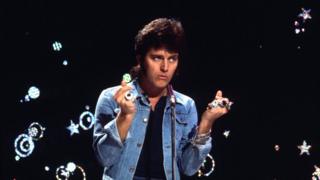 A new exhibition will pay tribute to pop star Alvin Stardust in his Nottinghamshire hometown.
Stardust, whose real name was Bernard Jewry, had hits in the 1970s including My Coo Ca Choo and Jealous Mind.
He was born in London in 1942 but moved to Mansfield as a child, where he is still remembered as a "friendly" and "grounded" musician.
The glam rock singer died in 2014 at the age of 72 after being diagnosed with metastatic prostate cancer.
Mansfield Museum's "Stardust Memories" will feature memorabilia from all stages of the pop star's 50-year career.
'Master of the champagne moment'
Friend and former tour manager Dave Harness said many of the items, including clothing and shoes worn by Stardust, has been in his loft "for years".
Guitarist Glyn Davies, who toured with the pop star from 1979, said: "[Alvin Stardust] was always fun to be with... His son Shaun summed him up as the 'master of the champagne moment'."
While drummer Dan Guest said he was a "fantastic guy" and fondly remembers their ritual of having a shot of whiskey before going on stage.
Liz Weston MBE, the museum's curator said: "We were privileged to meet Alvin a few years back when he performed at the opening of Pop Goes Mansfield, our exhibition about the local music scene.
"The audience loved him. He played free of charge and was one of the most open, friendly and downright grounded pop musicians you could meet."
A tribute concert will be held later at Mansfield Palace Theatre and will feature the Alvin Stardust Band, with money being raised for a cancer charity.
The exhibition will run until 17 November.
Follow BBC East Midlands on Facebook, on Twitter, or on Instagram. Send your story ideas to eastmidsnews@bbc.co.uk.