Wrong way M1 drunk driver jailed over death crash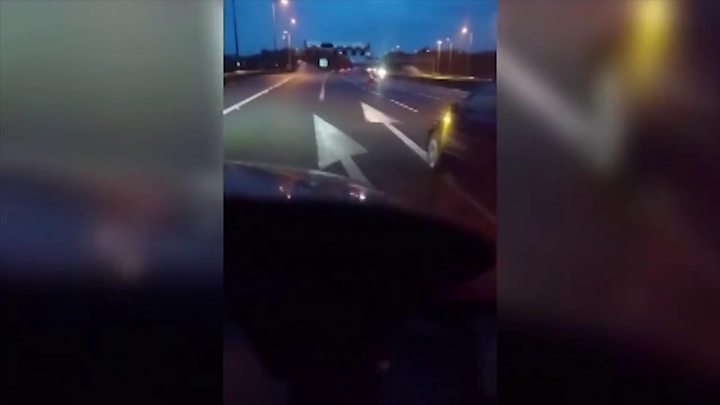 A drunken driver who went the wrong way up the M1 after causing a fatal crash has been jailed for 11 years.
Adrian Radu caused the crash on the southbound carriageway before he fled, driving north, on 24 March.
Father-of-four Mark Downham, from Chorley, Lancashire, who was a passenger in a van involved in the crash, died from his injuries.
Radu, 28, pleaded guilty to causing death by dangerous driving during a trial at Nottingham Crown Court.
The Romanian national also admitted driving while drunk, driving while disqualified and driving without insurance.
The court heard Radu was seen on the M1 braking hard, causing other motorists to slow down or overtake during the early hours of 24 March.
When the crash happened, Radu was driving south near junction 27 when he suddenly braked hard and turned into another lane.
A motorist told the court he "narrowly avoided" hitting his car but a van behind him ran into the back of Radu's car.
The van ricocheted into a lorry and Mr Downham suffered "terrible injuries". He was taken to hospital but died two days later.
Radu fled the scene by driving the wrong way down the motorway and failed a roadside breath test when stopped by police.
The court heard Radu had been driving in the UK since 2010 and had previous motoring convictions.
Judge Gregory Dickinson QC described Radu's driving as "appalling" and said there were "at least five occasions" when he endangered lives.
"It appeared that you were attempting to do a U-turn on the motorway," the judge said.
"Either that or it was drink-fuelled stupidity - either way it was horrifically dangerous."
The court heard Mr Downham had received an Order of St John award after his organs and tissue were donated to many people.
In a victim impact statement, his mother Lesley said she was "devastated" by his death but proud "that somewhere in this world, part of my son's still alive".
Follow BBC East Midlands on Facebook, Twitter, or Instagram. Send your story ideas to eastmidsnews@bbc.co.uk.