Armed police detain man after Arnold stand-off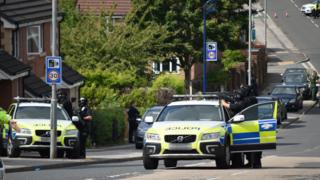 A man has been detained after armed police surrounded flats in a stand-off that last five hours.
Officers, with the force helicopter, were called to the corner of Rolleston Drive and Coppice Road in Arnold, Nottinghamshire, just after midday.
Reports of a man with a weapon led to properties being evacuated and nearby schools being locked down.
Police confirmed a 25-year old man was detained under the Mental Health Act just after 17:00 BST.
There are no reports of any injuries and residents have been allowed to return.
Coppice Farm Primary, Killisick Junior School, Ernehale Infant School and Ernehale Junior School were put on lockdown for a time but parents were then told they could take their children home at the normal time.
Mary Kilner was driving past shortly after the incident started.
She said: "I noticed there were at least three policemen and three police cars and the officers had rifles.
"They had their rifles aimed at an upstairs window of the flats.
"I was worried but mainly for the people in the building."