Mark Rylance attacks 'plan to frack in Sherwood Forest'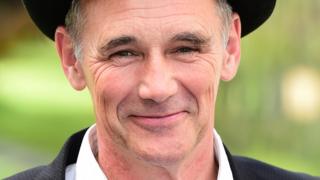 Oscar-winning actor Mark Rylance has accused an energy company of planning to frack inside Sherwood Forest.
Petrochemical firm Ineos are preparing to conduct seismic surveys in a bid to find shale gas near the ancient Nottinghamshire woodland.
However, the Dunkirk and BFG actor said in a video the tests could lead to fracking, putting it "under threat".
Ineos said stories about drilling for gas in Sherwood Forest were "mythical" and it has no intention of doing so.
Mr Rylance said in a Friends of the Earth video: "[Ineos] have received permission to carry out seismic surveys, the first step towards fracking itself, coming within just a few hundred yards of the Major Oak.
"This is the latest threat to our increasingly industrialised countryside. I feel we have to make a special effort to protect a place like Sherwood Forest.
"If they could consider fracking in Sherwood Forest, after all, where won't they consider fracking?"
You may also be interested in:
A spokesman for Ineos Shale said claims that it intends to drill inside the "most famous forest in the world" were not true and had been "spread to great effect by Friends of the Earth to further their own ends".
"Ineos has no intention of placing drilling rigs for shale wells inside the forest now or in the future," the spokesman said.
Nottinghamshire County Council had said plans to survey parts of the forest were dropped in May last year.
Ineos has identified the East Midlands as a key area for potential shale gas extraction, and has been granted permission from landowners around north Nottinghamshire, to explore sites.
However, the National Trust, which owns Clumber Park, six miles (9.6km) from Sherwood Forest, has refused to allow the tests which has led to a future hearing at the High Court.
Who owns Sherwood Forest?
Sherwood Forest originally stretched from Sheffield to Nottingham, and was the legendary home of Robin Hood
It is now much smaller and is separated by roads, towns and farms
Part of the remaining woodland is designated as Sherwood Forest National Nature Reserve (NNR), which covers 1,050 acres of land and is owned by Thoresby Estate
Sherwood Forest Country Park is a 450-acre country park within this, and is managed by Nottinghamshire County Council
Thoresby Estate currently leases this land to the council so that it can manage Sherwood Forest Country Park
Part of the land within the NNR is also leased to the Forestry Commission, and both Thoresby Estate and the Forestry Commission would have to agree for seismic surveys to be carried out there
The entire NNR is set to be managed by the RSPB
The wider Sherwood Forest has a range of different private and public landowners, which include the Forestry Commission
Source: Nottinghamshire County Council and Thoresby Estate
Follow BBC East Midlands on Facebook, on Twitter, or on Instagram. Send your story ideas to eastmidsnews@bbc.co.uk.