'Bouncing breasts' harassment nurse Aaron Kibaja is struck off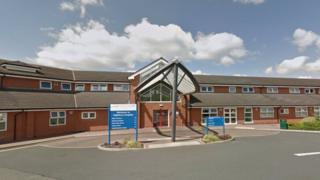 A nurse who sexually harassed his junior colleagues - including pulling an emergency alarm so he could see one woman's breasts bounce as she ran down a corridor - has been struck off.
Aaron Kibaja harassed four women at Highbury Hospital in Nottingham from 2012 to 2016 before finally being suspended and later dismissed.
The Nursing and Midwifery Council (NMC) found 30 charges were proved.
Nottinghamshire Healthcare said the Trust dismissed Mr Kibaja in May 2016.
The NMC panel decided Kibaja's behaviour amounted to misconduct and his fitness to practise was impaired.
The incident with the emergency alarm happened in 2012 but the woman involved did not report it at the time.
After pulling the alarm, Mr Kibaja, who was a ward manager, simulated breasts bouncing with his hands as she ran in response to it.
'Can I touch your bum?'
The second woman was harassed between mid-2013 and July 2014 and it affected her so much she took a secondment to another ward to "escape" his behaviour.
The charges included Mr Kibaja pushing his groin against her, deliberately dropping items so she would bend over to pick them up, making suggestions about oral sex and comments including: "Can I touch your bum?"
She too did not report the incidents as they happened, explaining to the panel that she was newly qualified and did not feel in a position to challenge a senior member of staff.
The third woman was harassed between December 2012 and December 2015. The charges included Mr Kibaja offering to examine her breasts, blocking doorways so she would need to squeeze past, and making squeezing motions as if to grope her breasts.
She became so "upset and distressed" when her evidence was cross-examined that the panel decided to halt her witness session.
The fourth woman was harassed between May 2015 and April 2016, with the charges included Mr Kibaja touching her inappropriately, referring to her breasts as "twins" and telling her she was going to "get it wheel barrow".
Mr Kibaja was eventually investigated when the third woman complained about him, after which the incidents involving the other women came to light.
A spokesperson for Nottinghamshire Healthcare said: "Nottinghamshire Healthcare takes all allegations against staff extremely seriously.
"We began the formal investigation process as soon as we were made aware of the allegations against Mr Kibaja and he was dismissed from the trust in May 2016."
Follow BBC East Midlands on Facebook, on Twitter, or on Instagram. Send your story ideas to eastmidsnews@bbc.co.uk.