Operation Equinox: Woman jailed for sex with boy, 15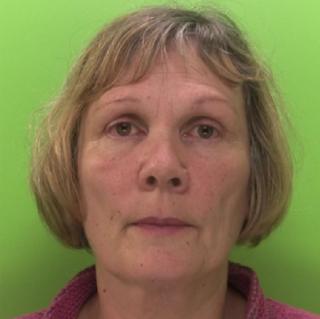 A former social worker who had sex with a 15-year-old boy when she worked at a children's home in the 1980s has been jailed for 30 months.
Myriam Bamkin would have been aged 27 or 28 when she committed the offence in a gym at Amberdale Children's Home in Stapleford, Nottinghamshire, in 1985.
The judge said the sex was "consensual" but "unlawful and very wrong".
Bamkin, 61, from Belper, Derbyshire, pleaded guilty at Nottingham Crown Court to indecent assault.
The offence came to light as part of Operation Equinox, an investigation into historical child abuse at children's homes and other institutions in Nottinghamshire.
Bamkin is the only woman to have been charged.
Det Con Vincent Clark said the victim had been "totally reliant on the adults around him" but instead of caring for him, she "manipulated the teenager to get what she wanted".
"He has lived with this for a long time and I am pleased to say that him having the courage to report Bamkin has resulted in a prison sentence."
Rebecca Herbert, prosecuting, said other members of staff raised suspicions about Bamkin's relationship with the boy after a camping trip when the boy was 16.
"The relationship she had with him was utterly inappropriate for an adult woman looking after an underage boy in her care," she said.
However, Ms Herbert said the allegations "were swept under the carpet" at the time.
'Groomed'
The judge, Recorder Paul Mann QC, said: "Other members of staff reported their suspicions to the head of the unit. He told staff to keep their suspicions to themselves.
"It's clear that staff felt let down by the head of the unit and also by you."
He said the boy was "a troubled, vulnerable young man" and Bamkin exerted authority over him, giving him privileges like visits to the shops.
"It's clear to me that, to some extent, you did groom him," he told Bamkin.
Katrina Wilson, defending, said her client had written a letter to the court detailing she felt about the offence.
"The inaction is not anything of her own making," said Ms Wilson.
"She is a woman who has dedicated her life to helping others. She did something wrong and has deeply regretted it ever since."