Teenage girls have major surgery after swallowing 'piercings'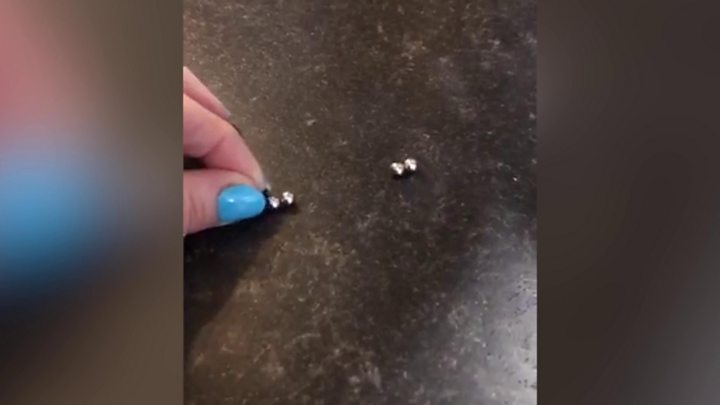 Two girls aged 13 and 14 have needed major bowel surgery after swallowing fake tongue piercings.
Another girl was taken to hospital with abdominal complications after consuming the powerful magnetic parts.
The "piercings" consist of two magnets which are placed on each side of the tongue to mimic a real piercing.
Warning letters have been sent to schools in Nottinghamshire, and calls have been made to make the accessory illegal.
Nottingham City Council said the strength of the magnetic attraction could cause "serious physical damage to the bowel" if they were swallowed separately.
Public Health England notified trading standards teams at Nottingham City and Nottinghamshire County Council of the cases involving the three girls.
Nottingham city councillor Toby Neal said the fake magnetic piercings should be made illegal.
"It is really concerning that this is happening and we hope that these young girls recover quickly," he added.
"Children are using these high-powered magnets to mimic having a tongue piercing and they are not thinking about the dangers, which in some cases can be life-threatening."
The council said fake piercings and "buckyballs" - magnetic balls used to make shapes and structures - are both easily available and can be bought online.
Nottinghamshire county councillor Gordon Wheeler added: "As the products have a legal status, our trading standards teams are powerless to act against any shops or websites that have them for sale.
"However, we are appealing to all responsible retailers to withdraw them from sale immediately and we are calling on MPs and the government to ban these products at the earliest opportunity."
Follow BBC East Midlands on Facebook, on Twitter, or on Instagram. Send your story ideas to eastmidsnews@bbc.co.uk.