Conditions at HMP Nottingham 'may have caused suicides'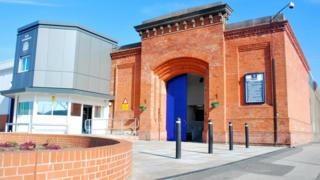 Inmates may have taken their own lives at Nottingham Prison because they could no longer face life at the "drug-ridden jail", the chief inspector of prisons has said.
In his report, Peter Clarke said the death rate at the prison was "tragic and appalling".
He added that for too long prisoners had been held in a "dangerous" and "disrespectful" environment.
The Ministry of Justice (MoJ) said it had made improvements to the prison.
Her Majesty's Inspectorate of Prisons (HMIP) carried out an inspection at HMP Nottingham - where about 1,000 men are held - in January, its third visit since 2014.
The report said there had been eight self-inflicted deaths at the Category B facility since the previous inspection in 2016, including four in four weeks in September and October last year.
Following the HMIP visit in January, Mr Clarke issued an "urgent notification letter" calling on the government to improve safety at Nottingham.
In the highly critical report, he said conditions inside may have contributed to the number of deaths in the last two years.
"My fear, which may prove to be unfounded, is that some could face it no longer and took their own lives," Mr Clarke said.
"This prison will not become fit for purpose until it is made safe."
The report, described by HMIP as "one of the most disturbing" in recent years, said that the lack of improvement showed the prison had "consistently failed" to achieve safety standards.
It also found:
A survey of prisoners found 40% felt unsafe on their first night and 67% had felt unsafe at some point while held at the jail
More than half of prisoners said drugs were easy to acquire and 15% "indicated they had acquired a drug problem since entering the prison"
A quarter of prisoners said they felt suicidal on arrival, with 344 self-harm incidents recorded in the six months up to the inspection
In the same six-month period there had been 103 assaults on staff, with further reports of "violence and poor behaviour" contributing to "an atmosphere of tension and unpredictability"
A woman, who wanted to be known as Sam, said she worried about her partner who is an inmate at Nottingham Prison.
She said: "They don't feel safe a lot of them. There was an incident where three guys attacked him [her partner]. There is so much mamba - there are so many in there on that. You can get it whenever you want it.
"There was a guy in the next cell to him that had hung himself. It is always on your mind that something is going to happen."
Responding to the report, Justice Minister Rory Stewart said he visited the prison following the urgent notification letter in January to see how staff were implementing changes to deal with the "very grave issues".
"There have already been a number of improvements, including increased staff support, new violence and drug reduction strategies, and specialist staff to tackle substance abuse," he added.
In February, Justice Secretary David Gauke said £200,000 would be spent on improving mental health services at the jail.
Elizabeth Moody, the acting Prisons and Probation Ombudsman, said the report showed an "apparent inability" in the prison to "learn lessons" from previous problems.