Nottingham schoolboy, 16, stabbed in city park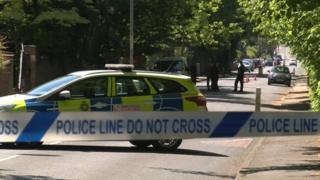 A teenager has been arrested after a 16-year-old boy was stabbed near a park in Nottingham.
The victim was injured near Coppice Park, in Ransom Road, St Ann's at about 08:00 BST and was later taken to hospital.
Nottinghamshire Police said his injuries are not believed to be life threatening.
Both of the boys are pupils at Nottingham Academy, which said it took pupil safety "very seriously".
It follows another incident where a 15-year-old boy suffered slash wounds in Ripon Road, Bakersfield, near to the same school, on 18 April.
A 15-year-old boy was later charged with grievous bodily harm.
The school said in a statement: "Nottingham Academy takes our responsibilities for pupil safety very seriously and we continue to work closely with local authorities in supporting our young people both during their time at the Academy and when they are in the local community."