Man arrested over Eastwood machete attack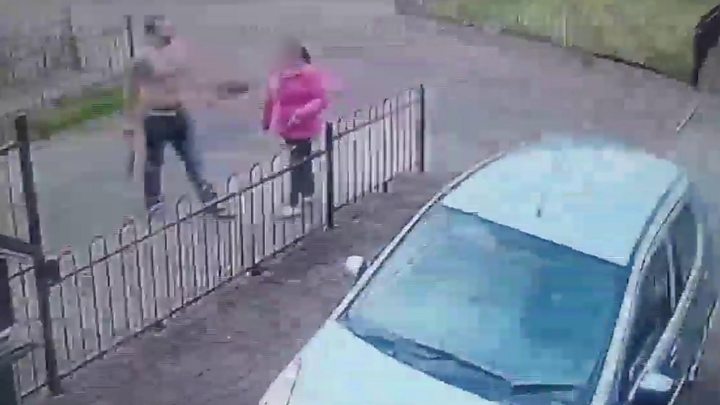 Police who were accused of doing "naff all" over a man filmed brandishing a machete have made an arrest a week after they were originally called out.
Nottinghamshire Police has also apologised to Neil Brownlow who said he could have been killed when the weapon was swung at him.
Mr Brownlow said it is an "absolute joke" that police did not arrest the man when it happened.
They were originally called to Lydia Gardens in Eastwood on 4 May.
Police said a 31-year-old man had been arrested on Friday morning on suspicion of affray.
"All I can say is it's about time," Mr Brownlow said.
"He was screaming and coming down the road with the machete shouting 'I'm going to chop you up'.
"If I hadn't moved he would have caught me with it."
A nearby mother who witnessed what happened said: "He started going towards Neil with the machete swiping it in front of his face.
"The police came and all they did was take the weapon."
Speaking before the arrest, she added: "If someone is waving a knife around you expect them to be taken away but the police are doing absolutely naff all."
Police were called when the incident happened and officers took the weapon from the man.
However, the force said they "couldn't find any sign of a disturbance".
Supt Ian Roberts said: "We sincerely apologise to the victim of this offence for the delay in taking a statement from him.
"We are carrying out a number of inquiries including speaking to potential witnesses and locating CCTV."
Supt Roberts said it was "an isolated incident" but police will be carrying out reassurance patrols in the area.
"Knife crime is taken seriously and is a force priority," he added.
"In this case we have not taken the appropriate action and we are now working with the victim to ensure he receives the service we would expect."