Police 'doing naff all' over man filmed waving machete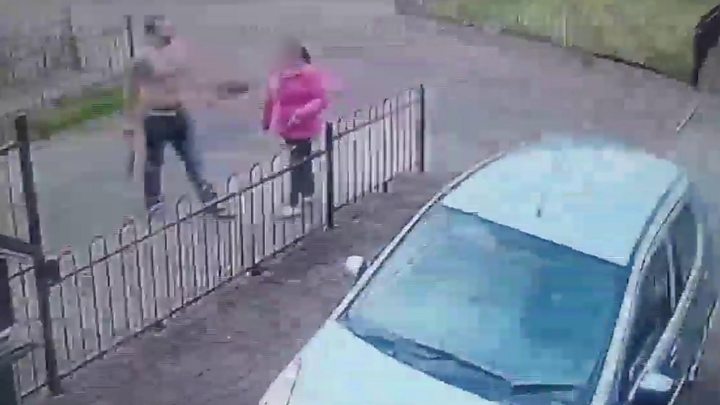 A man says it is "an absolute joke" police did not arrest a neighbour who swung a "giant machete" at him.
The neighbour was filmed waving the weapon in Eastwood, Nottinghamshire, on Friday.
When police attended they took the blade from him, but the force said its officers "couldn't find any sign of a disturbance".
The victim, Neil Brownlow, believes he could have been killed.
"He was screaming and coming down the road with the machete shouting 'I'm going to chop you up'," said Mr Brownlow.
"He raised it above my head and brought it down and nearly hit me on the nose. I hit his arm to knock the blade away from my face. If I hadn't moved he would have caught me with it.
"It's an absolute joke. The government speak about how they won't tolerate knife crime but Notts Police don't care.
"They've got the evidence in their hands."
The attack was witnessed by other neighbours in Lydia Gardens, including one who said her young son is now scared to walk to school.
'Absolutely naff all'
"There are a lot of kids on the street who daren't go past that house," she said.
"He started going towards Neil with the machete swiping it in front of his face.
"The police came and all they did was take the weapon, but they haven't arrested him. If someone is waving a knife around you expect them to be taken away but the police are doing absolutely naff all.
"That man causes trouble all the time and a lot of families on the street have contacted Derwent Living [the housing association] about him."
Nottinghamshire Police said: "We were called to a report of a fight in Lydia Gardens, Eastwood, at about 20:45 on 4 May.
"Officers attended but couldn't find any sign of a disturbance, however a knife was handed in.
"Investigations are ongoing and witnesses are being spoken to."
Gemma Trowbridge, head of housing at Derwent Living, said: "Our anti-social behaviour team has begun an investigation into what happened and we are also supporting the local community and helping police with their enquiries.
"If any customers have been affected by the situation and Derwent Living hasn't yet contacted you, please get in touch with our anti-social behaviour team as soon as possible."