Mariam Moustafa: Mourners attend funeral in Nottingham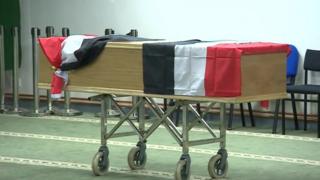 Hundreds of mourners offered prayers at a service held in memory of an Egyptian student who died after being attacked waiting for a bus in Nottingham.
Mariam Moustafa was left in a coma after an assault on 20 February, and died three weeks later.
The body of the 18-year-old, who was studying engineering at Nottingham College, is set to be flown back to Egypt for burial on Friday.
Her father Mohamed said the family is still coming to terms with her death.
"I have very bad dreams, and when I wake up every morning I can't believe that this happened to my daughter," he said.
East Midlands Live: Bin lorry tribute for six-year-old cancer victim; Man has pioneering op to remove skin
Mourners gathered at the Islamic Centre on Curzon Street, Nottingham, for the service.
Miss Moustafa's body will be taken to London for another memorial ceremony ahead of the flight to Cairo, when further prayers will be held before the burial.
Investigations into Miss Moustafa's death are continuing.
A 17-year-old girl arrested on suspicion of assault occasioning grievous bodily harm remains on bail. Nottinghamshire Police has said the attack was not hate-related.
Police are still waiting for the results of tests to establish if there was a link between the assault and Miss Moustafa's death, after a post-mortem examination was inconclusive.
An investigation has also been launched by prosecutors in Rome, where Miss Moustafa was born, while the Egyptian embassy has said called for justice over the "vicious attack".