Aqib Mazhar death: Mother's plea over son's fugitive killer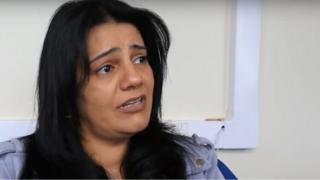 The mother of a man who was fatally stabbed inside a car has appealed for help catching his killer.
Aqib Mazhar, 21, of Forest Fields, Nottingham, was stabbed in the back on the street where he lived in June 2016 and later died in hospital.
Five men were jailed for killing Mr Mazhar but another man, who police believe delivered the fatal blow, is still on the run.
Shameem Akhtar said she wants her son's killer caught and put "behind bars".
Mr Mazhar became trapped in a car after it was blocked in by three other vehicles on the evening of 1 June 2016.
As he tried to escape he was stabbed in the back and died later in hospital.
Four men, from Nottingham and Derby, were jailed after they all pleaded guilty to manslaughter.
Another man, who was 18 at the time, was also jailed for manslaughter in May 2017.
Ms Akhtar, who still lives in the area and drives past the crime scene every day, said her son's death had left a void in her life.
"We have to live our lives without Aqib, knowing that the man who took him away is still out there," she said.
"Every day since his death has been agony. He leaves behind two younger sisters, an older brother, a father, and many other family members and friends who cared for him deeply and we just can't put it to rest.
"We just want justice done and to be able to sleep at night knowing that this dangerous individual is behind bars."
Det Ch Insp Rob Severn has appealed for the public's help in tracking the killer down and finding the murder weapon.