University's bid to save original Southwell Bramley apple tree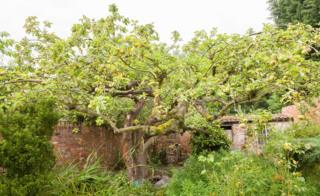 The original Bramley apple tree, planted more than 200 years ago, has been sold to Nottingham Trent University in a bid to extend its life.
The tree was sown by a girl called Mary Ann Brailsford in Southwell, Nottinghamshire, in 1809.
However, the "mother" of all modern Bramley apples is dying from an incurable fungal infection.
The university said the tree had "huge cultural significance" and wants to preserve it for as long as possible.
It became the new custodian of the tree after buying two cottages in Church Street, Southwell, from previous owner Coulson Howard, who had taken on the garden from his aunt Nancy Harrison.
The rose garden containing the tree will be looked after by horticulture staff and students.
Grafts from the original tree will also be replanted at the Brackenhurst Campus, near to the town.
You might also like...
Professor Robert Mortimer, from the university, said the tree was well-known throughout the world.
He said: "We want to play our part in recognising the importance of the Bramley's Seedling, the nation's favourite cooking apple, and celebrate its huge cultural significance for Southwell, the UK and globally.
"Unfortunately it will inevitably perish due to disease, but we want to try to preserve this great tree for the people of Southwell for as long as possible."
The annual Bramley Festival, which celebrates the origins of the Bramley Apple in Southwell, is now in its 25th year and will be held on 20 October.
From one tree to thousands...
A girl called Mary Ann Brailsford grew the tree from a pip in about 1809.
Henry Merryweather was just 17 when he came across a gardener carrying some of the apples in 1856, and asked where they had been grown. By this time, the garden containing the apple tree belonged to a butcher called Matthew Bramley.
Mr Bramley agreed that Mr Merryweather could take cuttings from the tree and grow them in his family's nursery, providing they had the name Bramley's Seedling.
There are now more than 300 Bramley growers in England
One Japanese apple farmer said he "nearly cried" when he visited Southwell.