Beeston car and shop catch fire after taxi crash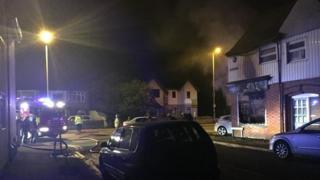 A woman has been taken to hospital after a vehicle smashed into a building and caught fire.
A car and a taxi crashed, causing the car to hit a shop front on the corner of Queen's Road and Henry Road, in Beeston, Nottinghamshire.
Emergency services arrived at the scene just after 23:30 BST on Sunday and found the car and hairdressers alight.
Several properties in the area lost power as a result, while the woman was treated as a precaution, police said.
Residents said power was restored in the early hours of the morning when fire crews declared the area safe.