Nottingham car park collapsed 'during repairs' firm admits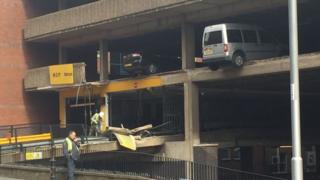 A partial car park collapse, which left cars hanging over a drop, was caused by rusted steel supports, the owners say.
Part of a wall came down at the NCP Nottingham City Car Park in Cumberland Place in August.
NCP said water had corroded steel reinforcements but this had been spotted and repairs were under way when the wall fell on to access roads.
The firm, which is reopening the car park on Monday, said it had invested £1.9m in repairs and improvements.
The front fascia of the 500 space car park, along with parts of the floor, fell and blocked the entrance and exit.
It left three vehicles hanging about 50ft (15m) above the ground.
NCP Head of Operations, Brian Devonshire, confirmed work had begun on steel corroded by rainwater.
He said of the collapse: "You never expect to see something like that happen.
"Inspections did pick up there was a fault and we had actually started work and it was during those works that the section failed."
Nottingham City Council, which said it would seek assurances after the collapse, said: "NCP have kept us up to speed with the work... and we're satisfied with the quality and safety of the work."
A spokesperson for the Health and Safety Executive said its inquiries were continuing.