Nottinghamshire Police pulls out of armed response unit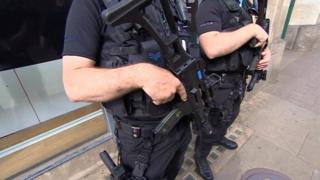 Nottinghamshire Police has pulled out of a specialist unit that deals with terrorism, road accidents and shootings.
The East Midlands Operational Support Service (EMOpSS) pools resources from across Leicestershire, Lincolnshire, Northamptonshire and Nottinghamshire.
Following an internal review the Nottinghamshire force said EMOpSS was costly and "fundamentally flawed".
The other forces have confirmed they will continue to collaborate.
About 150 officers have been brought back under control of Nottinghamshire Police.
EMOpSS, which began in 2015, provides a variety of services including roads policing, armed policing and dog support, as well as dealing with protests and football matches.
The idea behind it was that forces could save money by pooling their resources.
However, an internal review found officers were sometimes left tired from covering larger distances.
Paddy Tipping, Nottinghamshire's police and crime commissioner, said this could affect how quickly an armed vehicle could get to a possible terrorist attack in the county.
Nottinghamshire's chief constable Craig Guildford has now confirmed his force pulled out of the agreement on Tuesday, but said his staff will still work with the team informally on major incidents.
He said it would not affect the East Midlands Special Operations Unit which deals with murders and organised crime across the region.
Julia Debenham, chairman of the EMOpSS project board, said the three remaining forces will continue to work together.
"The turnaround times have been tight and while there are still areas which need fully resolving, the bulk of the new structure is largely embedded, the relevant risks assessed, and we are now in a strong position to move forward," she said.