Heating-off couple died from hypothermia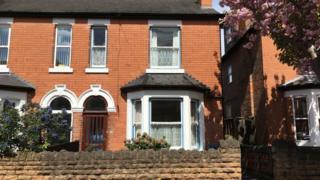 A couple who left their heating off during particularly cold weather died from hypothermia, an inquest has heard.
Bronwyn and Raymond Morley were found undressed in the front room of their home in Edward Road, West Bridgford, Nottinghamshire, on 15 December.
Mr Morley, 84, was already dead and Mrs Morley, 85, died in hospital later that day.
The inquest heard the couple had sufficient savings to pay for heating but their boiler was switched off.
'Extreme' weather
Mairin Casey, HM Coroner for Nottinghamshire, said: "We will now sadly never know what happened that led to the heating in the property being turned off and sadly that happened at a time when the weather was extreme and they would have been incredibly cold within the property."
The couple had lived in the same house since marrying 60 years before and had no children.
A neighbour who looked through the window and saw the couple on the floor called police suspecting there had been a break-in, because their furniture and other belongings were in disarray.
However, the coroner explained that hypothermia can cause people to become confused, which would explain why the room was in that condition.
The final stages of hypothermia can also cause people to feel irrationally hot.
'Lovely couple'
PC Louise Turton said there was snow on the ground when she visited the house.
"The address was very cold when I was inside it on the 16th," she said.
"When I breathed out you could see my breath."
The coroner recorded a narrative conclusion.
"I find that due to the extreme cold within their property both Bronwyn and Raymond Morley suffered from hypothermia which ultimately caused their death," she said.
A neighbour who had known the couple since 1979 said: "They were a lovely established couple that lived in the area for many, many years, and they are missed.
"They were probably the oldest in the area in terms of how long they lived there. It's very sad."