WW1 Chilwell factory blast memorial clean-up call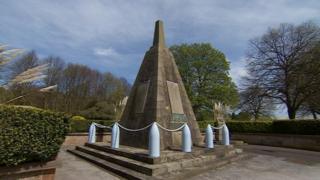 A memorial to those killed in one of the worst World War One home front disasters should be restored ahead of its centenary, an MP has said.
On 1 July 1918 an explosion ripped apart Chilwell ammunition factory, near Nottingham, claiming 139 victims.
Anna Soubry, MP for Broxtowe, has called for action, saying the memorial is not in a "fit and proper state".
Defence Infrastructure Organisation, which owns the site, said it hoped to begin work soon.
The explosion, which could be heard 20 miles away, killed 134 instantly and five died later.
Only 30 victims could be identified with the rest going into a mass grave in St Marys Church, Attenborough.
Despite this all but 12 of the surviving workers were back at the machines the following day. A month later, Chilwell claimed to have set a new production record.
Richard Hutchinson, from Chetwyn Neighbourhood Forum, said: "It's dirty, a lot of the names can't be seen and you can only get them if you get very, very close.
"We don't believe there has been too much restoration done on it in recent years and we want to protect it for the next 100 years."
Ms Soubry said: "It is not in a fit and proper state. We need a good memorial there, the commemorations are only a few weeks away.
"One hundred and thirty four people died in the explosion - there was a bit of a cover up afterwards - so it is important we don't forget the huge sacrifice that was made by a lot of civilians in the war effort"
Local historian Maureen Rushton said: "This memorial tells us the story of some of those involved."
The Defence Infrastructure Organisation said it was hoping to begin a "sensitive" cleaning of the memorial and had been working to secure funding for centenary events.
A week of events to commemorate the disaster is also due to include the unveiling of a new memorial at the site of the mass grave.