Hellboy board game Kickstarter hits over £700k ($1m) in hours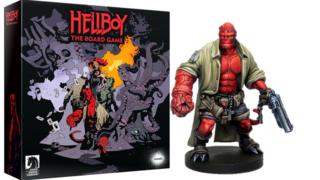 A company raised £725,000 ($1m) in the first 26 hours of a Kickstarter campaign for a new comic book-inspired board game.
The target was to raise £100,000 in one month to produce the Hellboy board game. This was achieved in 18 minutes.
More than 9,000 people have already backed the project and the total raised is now more than £800,000 ($1.1m).
Staff from the Nottinghamshire company Mantic Games said they were "overwhelmed" with the support.
Mantic Games, based in Bulwell, launched the Hellboy: The Board Game Kickstarter campaign, in partnership with Dark Horse Comics, on Wednesday.
Ronnie Renton, company CEO, said: "This is already shaping up to be one of our most successful Kickstarter campaigns ever and we've still got several weeks to go. We're planning to add more infamous adversaries and iconic agents as the funding continues to rise!"
It is the company's 16th Kickstarter campaign. Only two others raised more than $1m - Deadzone: The Sci-fi Miniatures Board Game and Dungeon Saga: The Dwarf King's Quest - but that took one month.
Mike Mignola, creator of the Hellboy comic, said: "Congratulations Mantic Games. Clearly the fans have spoken!"
Rob Burman, who is running the Kickstarter project for Mantic Games, said he thought there had been so much support for a number of reasons.
He said: "The new Hellboy film is out next year, so a lot of people are talking about Hellboy. Also, the game is based on the comics and they continue to be popular, particularly in America, and board games in general are really popular at the moment. Mike Mignola has been sharing everything we have been doing too.
"We have been overwhelmed by it. We have had backers from France, Germany and America."