Meden Sports Centre in Warsop to close after eight-year fight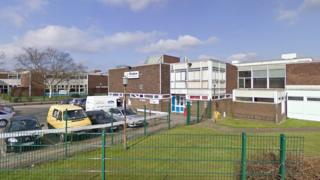 A sports centre under threat of closure for eight years will shut its doors to the public at the end of the day.
Meden Sports Centre, in Warsop, Nottinghamshire, has faced ongoing maintenance issues and closed for six months in 2014 after an inspection identified fire safety concerns.
Mansfield District Council deemed it "unsustainable" due to the buildings state and chose to shut it last year.
Warsop Parish Council had fought to keep the "essential" centre open.
In 2010 Nottinghamshire County Council, which owns the building, had planned to close the centre as part of a £3.1m budget cut.
'Poor condition'
However, since 2012 more than £500,000 has been spent on repairing the centre, which was built in 1969.
The district council, which leases the premises, later said the centre was in too poor a condition to have a long term future.
Officials had said renovation or rebuilding costs could cost between £1m to £8m.
Parish council chairman Andy Wetton, who opposed the closure plans, said: "There was money available to replace it but this has been spent on other things."
Customers can continue their lessons and activities at one of the district's four other leisure centres, the district council said.