British man charged over wife's death in Thailand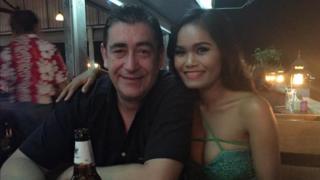 A British man has been charged with manslaughter over the death of his wife in Thailand.
Kevin Smitham, 51, from Nottingham, is accused of killing Kanda Smitham, 29, on Sunday following an argument at a house in the northeast of the country.
Thai police told the BBC that Mr Smitham confessed to hitting, kicking and strangling Mrs Smitham but denies trying to kill her.
The Foreign Office said it is helping a British man following his arrest.
Capt Watcharapol Pimwong, from Dech Udom police, in the Ubon Ratchathani province, said after attacking his wife, Mr Smitham left her body outside the house where they had been staying.
He told the BBC that the 51-year-old was "very angry" because he thought she was having an affair.
Mrs Smitham's aunt found her body covered with a cloth on Monday morning and then reported it to police.
Mr Watcharapol said Mr Smitham was charged with "assaulting that causes death or other."
If found guilty, he could face a 20 year jail term, according to Thai law.
He has been transferred to Ubon Ratchathani's provincial prison and is awaiting trial, the BBC understands.
A spokesman for the Foreign & Commonwealth Office (FCO) said: "Our staff are in contact with the Thai police following the arrest of a British man.
"We are providing advice and information to him and his family."