Mariam Moustafa death: Footage emerges of bus incident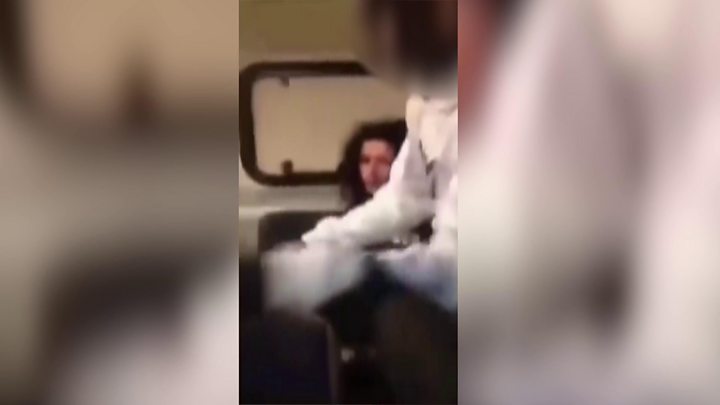 Film has emerged of an incident involving a teenager who died three weeks after being assaulted by a group of women as she was waiting for a bus.
Egyptian national Mariam Moustafa, 18, died on Wednesday after the attack in Nottingham three weeks earlier.
Nottinghamshire Police said Miss Moustafa was "punched several times" outside the Victoria Centre in Parliament Street on 20 February.
The force confirmed the footage showed part of the attack.
In a statement, police said she got on a bus but was followed "by the same group of women who were threatening and abusive towards her before they got off".
Live updates and more from the East Midlands
Bus company Nottingham City Transport (NCT) said one of its drivers helped Miss Moustafa by "acting as a barrier between the attackers and the young lady".
NCT said Miss Moustafa did not inform the driver of "any concerns she may have about other people in the queue for the bus".
There was also "no physical contact between Mariam and anyone else on our vehicle," NCT added.
A 17-year-old girl was arrested on suspicion of assault occasioning grievous bodily harm and was released on conditional bail.
Police said they were keeping an "open mind" about whether the attack on Miss Moustafa, which has sparked outrage in Egypt, was racially motivated.
Her family says an incident in August involving the same attackers, which left Mariam hurt and her teenage sister with a broken leg, was not sufficiently acted upon by police.
Egypt's embassy said those responsible should be "brought to justice swiftly".
Foreign Secretary Boris Johnson tweeted to say he had spoken with Egypt's foreign minister Sameh Shoukry about the investigation into Miss Moustafa's death.
Talking about the alleged attack in August, Miss Moustafa's sister Mallak, 16, told The Times: "No-one did anything. Something could've been done, and if the police did then she would still be here.
"I do think vital warnings were missed. The police should've done something after the first attack, but they did nothing. A complaint was filed and that was it."
In response to claims about the alleged incident in August, Nottinghamshire Police said it was confident an appropriate investigation had taken place.
The force said it was "reviewing the circumstances surrounding this to ensure this was the case".
Miss Moustafa's father, Hatim, 50, said: "I want justice for my daughter, not just my daughter but also so this doesn't happen to another girl or another boy."
The results from a post-mortem examination to establish the cause of Miss Moustafa's death are awaited.