Pongy prawns distract War Horse theatregoers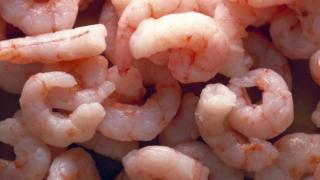 An "overpowering" smell distracted theatregoers when a family tucked into bags of seafood during a performance, according to an audience member.
They ate prawns and calamari during the opening of War Horse at Nottingham's Royal Concert Hall on Wednesday, Emmie Newitt said.
She added the smell was "distracting" and her partner had to leave his seat.
The theatre said the issue was resolved with the customers on the evening and there had been no further complaints.
Miss Newitt told BBC Radio Leicester she became aware of a fishy smell soon after sitting down with her partner to watch the show.
"In front of me was a family of four and all of a sudden I got this overwhelming smell. I looked over and they had pulled out prawns and calamari," she said.
"The smell was so overpowering, and when you're watching something like War Horse, which is a very serious play, it was a bit distracting."
Miss Newitt, 26, from Leicester, said the stench became too much for her partner who had to temporarily leave his seat.
She said theatre attendants asked the family to put the packets of seafood away.
A spokeswoman for the Theatre Royal said: "As soon as the issue was raised with our front of house staff on Wednesday evening they spoke with the customers concerned and it was all resolved then.
"We haven't had any further feedback or complaints."
In March last year, audiences at The Harold Pinter Theatre in London were told not to eat during performances of Who's Afraid of Virginia Woolf?
It is thought to be the first West End show to make such a request.