National Trust estate fires 'may be linked to bridge damage'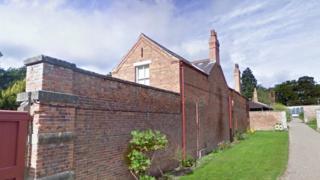 A self-catering accommodation block at a country park has been set on fire, just days after a historic bridge was deliberately damaged by a car.
Eight people sleeping in The Bunk House, Clumber Park, near Worksop, Nottinghamshire, at about 00:30 GMT on Monday escaped uninjured.
A National Trust van was also set alight at about midnight, police said.
Officers are not ruling out a link between the crimes and the damage caused to the bridge on 3 March.
A separate bin fire was also reported within the grounds of the estate in the early hours of Monday.
Insp Neil Bellamy said: "It's so disheartening that Clumber Park has been maliciously targeted for the second weekend in a row and this time it could have had far more serious consequences.
"Officers have been making substantial leads on both incidents and we are keeping an open mind as to whether the same people are behind them both."
The National Trust said the 250-year-old, Grade II*-listed Clumber Bridge would cost hundreds of thousands of pounds to repair.