Retford homeless death prompts volunteers to set up shelter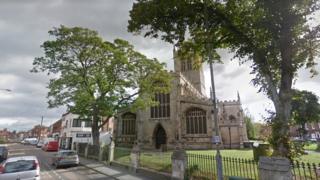 The death of a rough sleeper has prompted volunteers to set up a shelter for the homeless in their town.
The man, known as Ben, was found near St Swithun's Church, Retford, Nottinghamshire, on Tuesday.
A group called 'Helping Our Homeless - Retford' said it set up the shelter "in memory of our much-loved Ben".
Bassetlaw District Council said it had opened an emergency shelter in Worksop and offered free transport to it but some chose to "decline the offer".
The Nottingham Post reported those who knew Ben said he had been living in a tent despite recently being hospitalised with pneumonia.
Police confirmed they were called by ambulance crews to the scene on Churchgate just before 09:00 GMT and a file was being prepared for the coroner.
The new shelter, located on an industrial estate, was announced on Facebook by a post saying: "Retford now has a comfortable, warm place for our homeless to sleep during these freezing nights.
"Our community has come together and we have created this amazing place."
One supporter, Trace Frost, replied: "Fantastic, just a shame it wasn't done before Ben lost his life. The council should have done this soon as the temperature dropped."
Simon Greaves, leader of Bassetlaw District Council, said they were "extremely saddened" over Ben's death.
"Outreach Workers from Framework, the council, the police and a number of other agencies are in regular contact with people who are sleeping rough and have made them aware of the shelter [in Worksop].
"Some people have taken up this offer and have used the shelter. Regrettably other individuals have made a personal choice to decline this offer," he said.
The council said its shelter would be open throughout the weekend and into next week, depending on the weather.