Nottinghamshire road race crash death pair jailed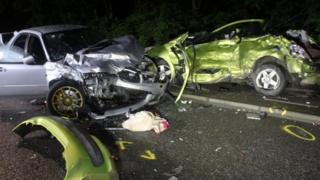 A driver who caused the death of her boyfriend in a crash during a road race with another motorist has been jailed.
James Horton died when Hannah Langton's car hit another in Nottinghamshire, in 2016.
Langton, 22, of Dale Road, Warsop, admitted at Nottingham Crown Court to causing death by dangerous driving and was jailed for 32 months.
Scott Stokes, 39, of Hucknall, was also jailed for causing death by dangerous driving.
Stokes, of Portland Road, who had previously denied the charge and one of perverting the course of justice, was sentenced to five and a half years in total for the two offences.
The court heard that prior to the crash on 17 June 2016, Langton had been racing her Peugeot against Stokes' Zafira as the vehicles entered the Nuthall island, on Low Wood Road.
She lost control of her car and it skidded across the road into the path of a Subaru Impreza.
Stokes denied being involved and that he had changed parts of his damaged Zafira following the crash, but was found guilty in January.
Langton had also pleaded guilty at an earlier hearing.
Det Sgt Adam Cooper said their actions caused the "needless death of an entirely innocent man".
He said: "The collision was borne out of the ridiculous stubbornness from both drivers who were determined not to let the other get in front.
"It's only a miracle that prevented the driver of the Subaru from also suffering serious injury."
He added the family of Mr Horton, 21, from Warsop, still struggle to deal with his death.