Nottingham railway station fire: Woman arrested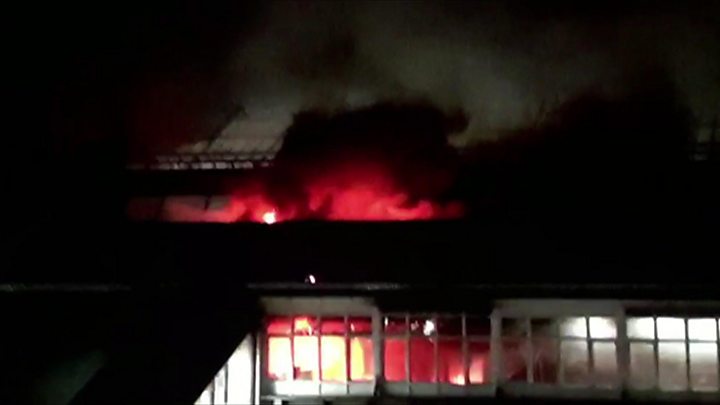 A woman has been arrested on suspicion of arson over the huge fire that closed Nottingham railway station.
British Transport Police said the 33-year-old from Derby was arrested earlier and questioned by officers.
Ten fire crews were needed to bring the fire under control after it broke out at about 06:30 GMT on 12 January.
Nottinghamshire Police said the woman had been released under investigation while inquiries continued.
East Midlands Trains confirmed the fire caused "significant damage" to the station, part of which remains closed.
Prior to the fire, which started in a set of women's toilets on the new side of the station, the main entrance to the station had recently been refurbished in a multi-million pound project between Network Rail, Nottingham City Council, East Midlands Trains and the Rail Heritage Trust.
Last month, Bryn Coleman, an incident commander with Nottinghamshire Fire and Rescue, said the fire could have been contained more easily had sprinklers been fitted.
He told the BBC the damage "would have been less" and could have avoided the closure of the railway station had they been in place.
All trains going in and out of Nottingham were cancelled on the day of the fire, but the station reopened at 04:45 on 13 January and was running a "near to normal" service by the following day.
British Transport Police is looking to speak to any witnesses who were around the railway station between 05:00 and 06:30 on 12 January.