Nottingham Prison: Open letter calls for change at jail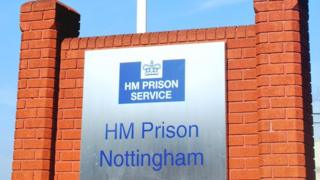 Legal experts and academics have signed an open letter calling for change at a "fundamentally unsafe" prison.
The letter, addressed to the governor of HMP Nottingham, urges the jail to reconsider the way it treats prisoners who self-harm.
Last week, the government was ordered to make immediate improvements to the prison.
Justice Secretary David Gauke said he will publish an action plan in 28 days which will drive forward improvement.
Live updates and more from the East Midlands
The open letter, which has been signed by lawyers and university professors, offers "support and solidarity" with governor Tom Wheatley.
It also suggests a number of changes to the way prisoners are treated, including those suffering from suicidal thoughts.
It comes after a prison officer at HMP Nottingham told the BBC his colleagues stop two suicides every week.
Co-author of the open letter, solicitor advocate Kushal Sood, said the prison should "abandon 'wing wisdom' about self-harm".
"There is continual reference in security reports to 'attention seeking'. This is a particularly dangerous concept in predicting suicide," he said.
"Research indicates self-harm is the strongest predictor of death by suicide that we have regardless of the intent of the act thus it is vital to take all self-harm seriously."
The letter also suggests HMP Nottingham should consider giving seriously ill prisoners compassionate leave if they are eligible, as well as offering a flexible approach to disciplinary procedures.
"For example, if a prisoner is behaving erratically, and needs his television to help him cope with auditory hallucinations, do not remove that television as a disciplinary sanction," Mr Sood said.
"This is a real example, which led to a further deterioration in the prisoners wellbeing."
Mr Sood added he would also offer the prison a free legal clinic if required.
Justice Secretary Mr Gauke said: "We have been clear that we should be held to account for the state of our prisons and that is why we introduced this urgent notification process.
"The Chief Inspector has rightly identified the very difficult challenges and circumstances staff at HMP Nottingham are facing and it is clear they need support to help deliver a safer establishment for staff and offenders.
"We have already provided more experienced staff to the prison and boosted the number of prison officers by more than 100."