Nottingham Sports Direct modern slavery brothers ordered to repay £167k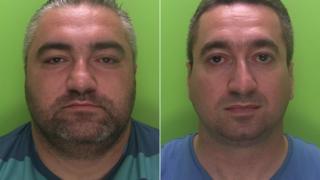 Two brothers jailed for modern slavery offences have been ordered to repay £167,650 in criminal gains.
Erwin and Krystian Markowski, from Nottingham, trafficked men from Poland to work at Sports Direct's Derbyshire warehouse and kept most of their wages.
Police said investigations found the duo made a "considerable amount of money" between 2010 and 2016.
Sports Direct said it welcomed the conviction and "will not tolerate these kinds of behaviour".
Nottinghamshire Police said Krystian had transferred tens of thousands of pounds to his mother's Polish bank account and both men had failed to declare assets in Poland.
At Nottingham Crown Court on Friday, Krystian, 36, of Harcourt Road, was found to have benefited £184,280 from his criminal exploits and was ordered to repay £97,650.50.
Erwin, 39, of Cedar Road, was deemed to have benefited by £122,306 and must repay £70,000.
If Krystian fails to pay the money within three months he could be jailed for a further 15 months, while Erwin could face another 12 months.
The brothers lured 18 men to work at the Shirebrook warehouse, confiscated their passports and controlled their bank accounts over six years.
They were jailed for six years each in January 2017 for modern slavery.
They were also made the subjects of the county's first 10-year Slavery and Trafficking Prevention Order on release from prison, in a bid to further protect their victims.
If the pair breach the order they could be given a further prison term of up to five years.