Nottingham Prison in 'dangerous state' says chief inspector of prisons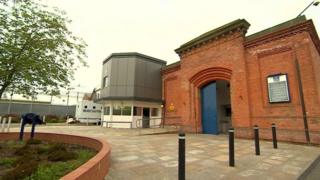 The government has been ordered to make immediate improvements to Nottingham Prison after it was warned the jail was in a "dangerous state".
The Chief Inspector of Prisons issued Justice Secretary David Gauke with an "urgent notification letter" demanding action within 28 days.
This is the first time the process has been used since it was set up in November.
Mr Gauke said an action plan would be published within the timeframe set.
It is thought eight inmates have killed themselves there in the past two years.
Levels of self-harm have also risen significantly.
In his letter, the chief inspector Peter Clarke told Mr Gauke there would be "further tragedies" unless safety measures were put in place.
He said he issued the urgent notification as it was the third time in a row that prison inspectors found the jail to be "fundamentally unsafe".
---
'Nobody cared'
Sharon Whitford's son Marc Maltby killed himself just days after starting a four-month sentence at the prison last year - the fifth death in a month.
She told Radio 4's Today programme her son told her conditions were "horrible", with prisoners harming themselves, not getting food on time, living in "mucky" cells and not having attention paid to them by guards.
"It was uncontrollable - people were taking drugs, they were easy to get, and basically nobody really cared," she said.
Ms Whitford explained there was "no indication" over how vulnerable her son's mental health was, and she is still waiting to find out the full details of how he died.
"When they're sent to prison it's for their own good and to keep them out of trouble and to keep them out of danger," she said.
"Obviously that's not being done, because my son's not coming home."
---
Under the "urgent notification" procedure, the justice secretary has to publicly commit to respond to the concerns raised within 28 days.
The response must explain how outcomes for prisoners will be improved in the immediate and longer term.
Nottingham Prison, which is run by the public sector, opened in 1890 but was extensively modernised in 2010. It currently holds about 1,000 men.
Mr Clarke wrote: "Inspection findings at HMP Nottingham tell a story of dramatic decline since 2010."
He said there was "irrefutable evidence" of a failure to respond the previous inspection findings and it was "extraordinary" there had not been a more "robust" response.
More than two-thirds of men at the jail said they had felt unsafe in the prison at some time.
'Difficult challenges'
The former Scotland Yard counter-terrorism chief, who took over at the inspectorate two years ago, said there was no shortage of prison officers at Nottingham but more than half the staff had less than one year's experience.
He said the jail needed "urgent support" from the Prison Service to "build up competence, capability and resilience".
He said: "It appears that the problems at Nottingham are intractable and that staff there are unable to improve safety despite the fact that this failing increases the vulnerability both of those who are held in the prison and of those who work there."
Mr Gauke said the chief inspector rightly identified the "very difficult challenges and circumstances" staff are facing at HMP Nottingham.
He said: "We have already provided more experienced staff to the prison and boosted the number of prison officers by more than 100.
"I will be looking closely at the issues faced by the prison and will publish an action plan within 28 days which will urgently drive improvement required."